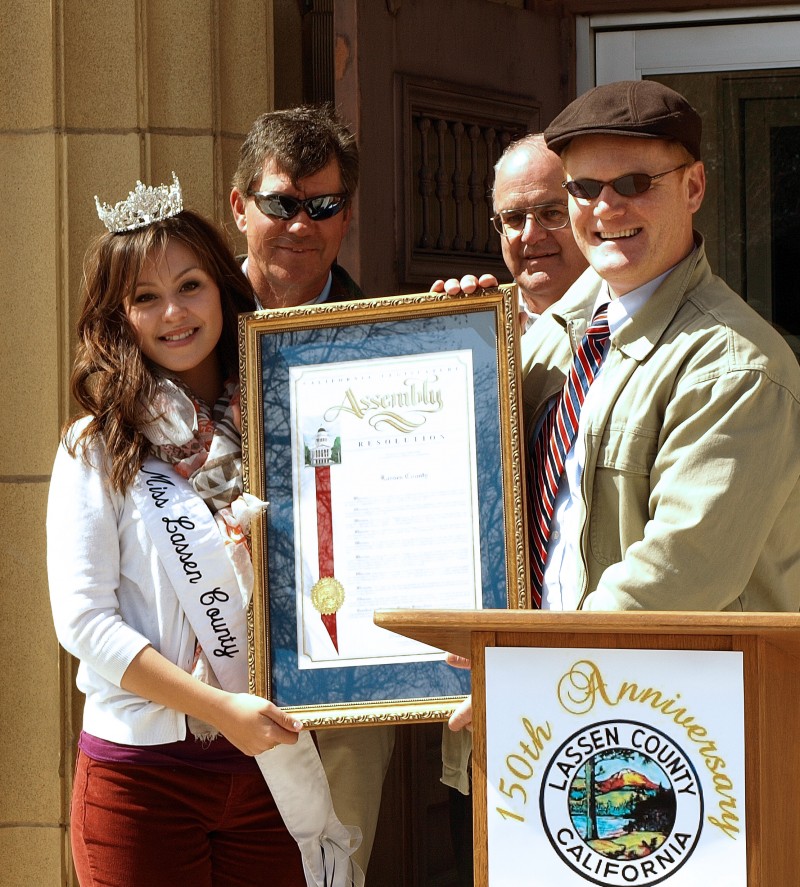 A year of celebration here in Lassen County, full of activities and observances of the county's sesquicentennial anniversary, is ending with one final grand party to be held this evening at 6:00 in Memorial Park. The party, which is a joint effort of the Lassen County Chamber of Commerce, the Lassen Historical Society and County of Lassen, will feature performances by members of the Susanville Symphony Jazz Ensemble, a presentation by local historian Tim Purdy and Lassen County Supervisor Jim Chapman and a barbecue dinner put on by the Susanville Elks.
The Lassen County Historical Society will have an historic stagecoach and pioneer wagon on display and Supervisor Chapman and Tim Purdy have put together a seventy-five foot timeline depicting 150 years of Lassen County history which will be displayed along the park walkway.
The Susanville Elks will be barbequing hot dogs, hamburgers and chorizos which will be sold for $1.50 each in honor of the 150th Anniversary. In addition, there will be a full no-host bar, with brandy and specialty ale brewed by Lassen Ale Works.
Local band Fourgery will finish out the evening with a great mix of classic rock with plenty of room for dancing.
The community is invited to join in this special celebration. For more information about the event call the Chamber of Commerce at 257-4323.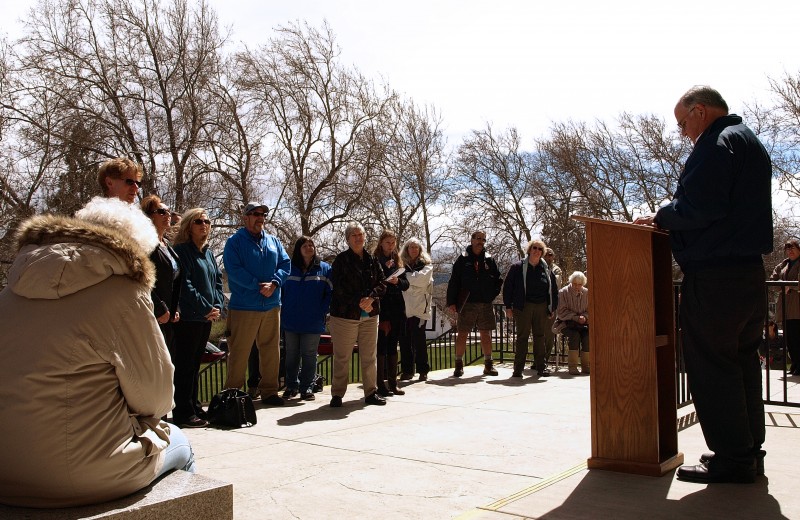 A Year of Celebrations
On April 1st, one hundred and fifty years to the day after Lassen County was officially created by the California Legislature, a group of local and regional dignitaries met on the steps of the historic courthouse on Lassen Street to observe the county's Sesquicentennial with a short, well-attended ceremony.
Lassen Supervisor Jim Chapman acted as master of ceremonies and was joined at the dais by Board President Larry Wosick who read a proclamation from the board recognizing April 1st as the county's 150th.
Speakers included Lassen County Sheriff Dean Growdon, District Attorney Bob Burns, Clerk-Recorder Julie Bustamante, Chamber of Commerce President Kathie Garnier and Bruce Ross from Assemblyman Dahle's office.
After finishing remarks on the steps of the century-old courthouse the group moved to Lassen Ale Works in the Pioneer for birthday cake cut by Zellamae Miles, great granddaughter of town founder Isaac Roop. You can see our gallery of photos from the April 1st observance by clicking here.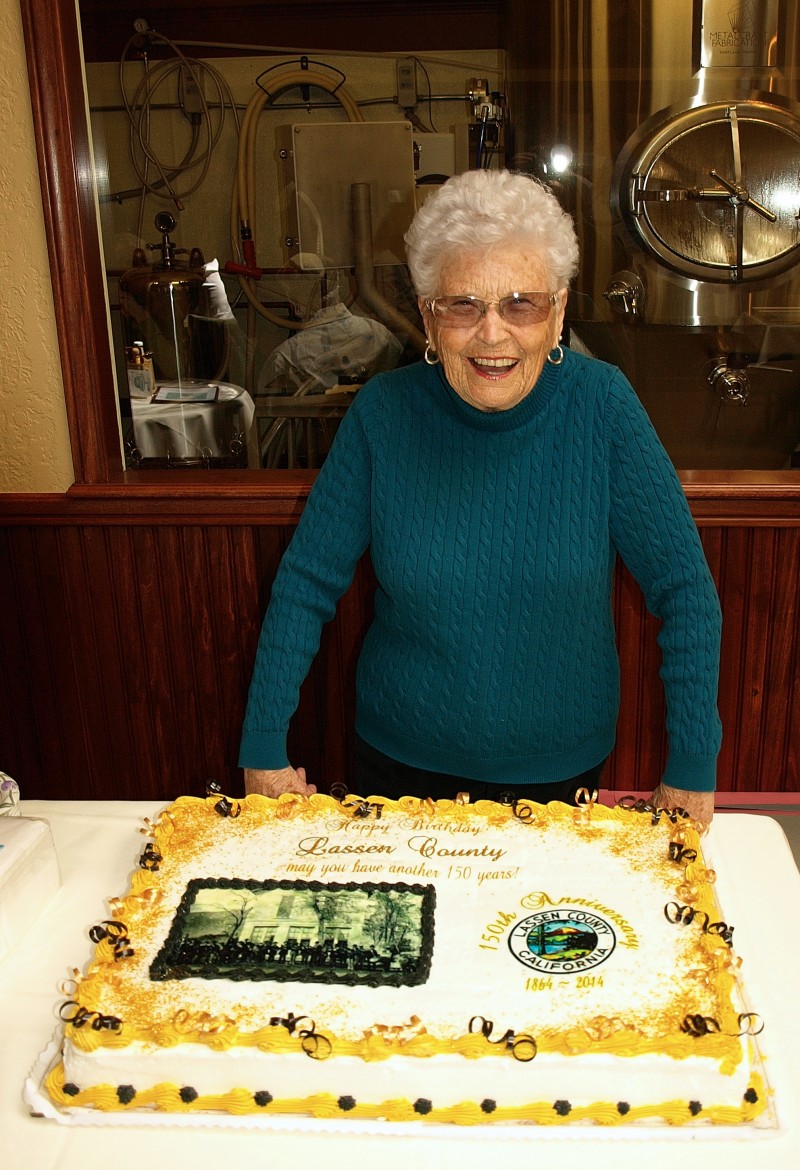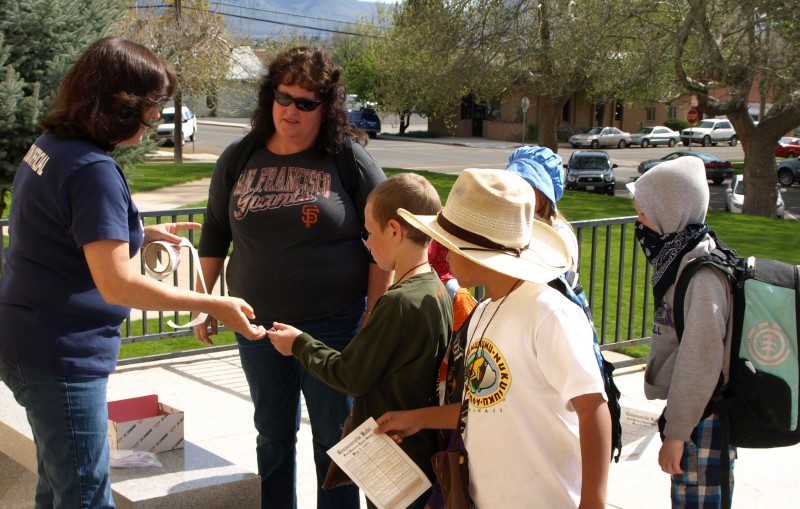 Celebrating 150 with Lassen County third-graders
Third graders from across Lassen County came to Susanville for the Office of Education's annual Third Grade History Day on May 2nd, and had a chance to vote in a unique election. The kids were given a ceremonial ballot from the first county election in Lassen, held 150 years ago.
Lassen County Clerk and ex-officio Registrar of Voters Julie Bustamante certified the third grader's votes and noted that there were numerous write-in votes for Mom and Dad, in addition to Isaac Roop.
Santa, Batman, and Hulk Hogan also received write-in votes in addition to one vote each for Mallery and Wilson for Treasurer.
Click here to see the results of the voting.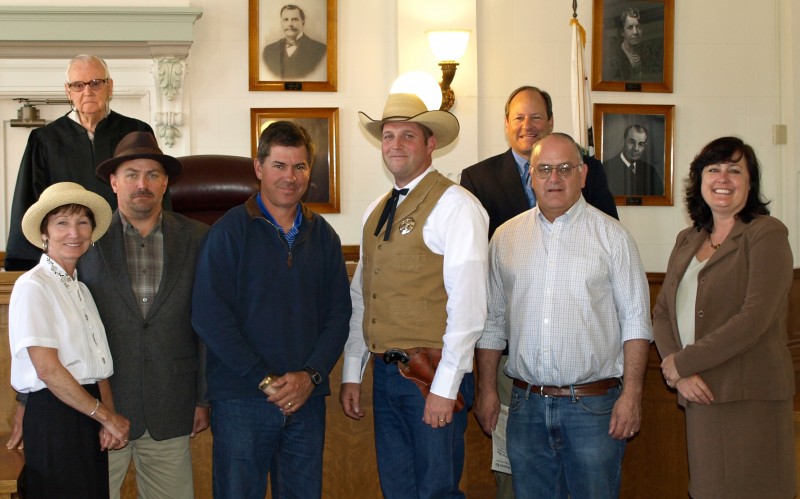 Swearing in the Officers
On May 12th the swearing-in of winners of the 1864 election, Lassen County's first, was reenacted in the historic courthouse on Lassen Street.
The ceremony was presided over by retired Superior Court Judge Joseph Harvey who was portraying the county's very first judge I. J. Harvey.
Each new officer was introduced by Supervisor Jim Chapman who was sworn-in alongside Supervisor Larry Wosick as their 1864 counterparts E.G. Bangham and A. Evans.
Acting Treasurer and Tax Collector Norma Scheetz took the oath as County Treasurer E.D. Bowman.
County Counsel and Lassen D.A. Bob Burns channeled District Attorney E.V. Spencer for the proceedings while Sheriff Dean Growdon took on the role of James D. Byers, our county's first Sheriff.
Dan Schlueter became Assessor A.H. Bowman for the swearing-in and County Clerk/Recorder Julie Bustamante acted as County Clerk A. A. Smith.