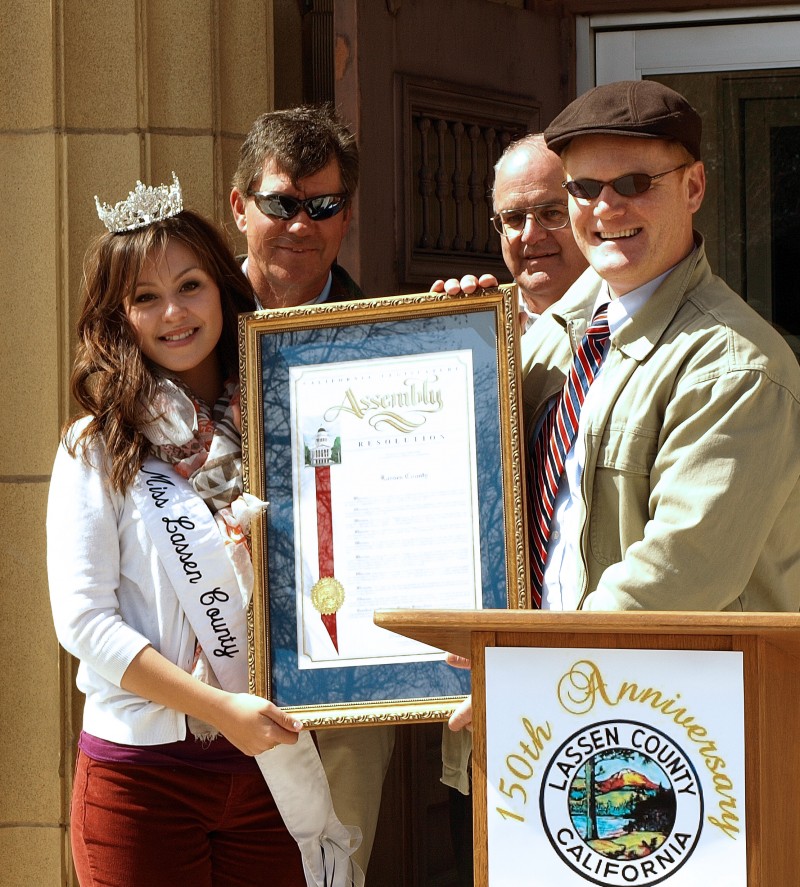 A SusanvilleStuff Photo Feature
by Jeremy Couso
One hundred and fifty years to the day after Lassen County was officially created by the California Legislature, a group of local and regional dignitaries met on the steps of the historic courthouse on Lassen Street to observe the county's Sesquicentennial with a short, well-attended ceremony.
The courthouse event is the first in a series of activities planned around the county's milestone anniversary to be held between now and September.
Lassen Supervisor Jim Chapman acted as master of ceremonies and was joined at the dais by Board President Larry Wosick who read a proclamation from the board recognizing today as the county's 150th.
Speakers included Lassen County Sheriff Dean Growdon, District Attorney Bob Burns, Clerk-Recorder Julie Bustamante, Chamber of Commerce President Kathie Garnier and Bruce Ross from Assemblyman Dahle's office.
After finishing remarks on the steps of the century-old courthouse the group moved to Lassen Ale Works in the Pioneer for birthday cake cut by Zellamae Miles, great granddaughter of town founder Isaac Roop.