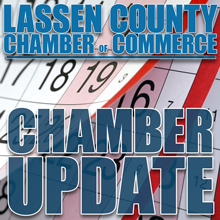 Patti Hagata, Executive Director
Fair time is fun time! The 2021 Lassen County Fair will be held July 21st thru the 25th. The Chamber will be coordinating the fair parade that will be held Saturday, July 24th, beginning at 10:00a.m.  Show off your community pride by entering your club or business; entry forms can be downloaded at www.lassencountychamber.org. There is no fee to enter; deadline to enter the parade is Wednesday, July 21st.  To see the schedule of events for the Lassen County Fair go to www.lassencountyfair.org.
Business Advisor Clint Koble, from the Sierra Small Business Development Center, is available for FREE small business consulting at the Lassen County Chamber of Commerce Office, the third Wednesday of each month, from 9:00 to 4:00p.m.; the next date he will be available at the Chamber is Wednesday, July 21st. Bring your questions on business, marketing plans, loan assistance, PPP Loans, and CA COVID-19 Grants. Reservations are preferred but please also feel free to stop in at your convenience, anytime throughout the day, for assistance with your small business needs. Clint can be reached at (775) 843-4081 or email him at clint.koble@gmail.com.
Make plans to stop by the Susanville Farmer's Market, held in Pancera Plaza in Historic Uptown Susanville, each Saturday, from 8:00 to 1:00p.m., thru the month of October. The market features fresh produce, meats, local crafts, delicious food, and more. The organizers of the market are planning to bring more vendors and excitement to this year's market so stop by to see what they have to offer as new vendors are added each week.
It has been a pleasure to serve as the Executive Director at the Chamber for the past 20 years and a privilege to work on behalf of the community and many businesses. I have announced my decision to step down as the Executive Director. The Chamber board will be accepting applications to fill the position; if you are interested in applying go to our website www.lassencountychamber.org to download the job description and application.