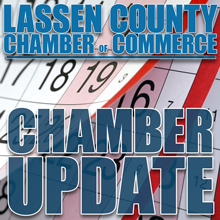 Patti Hagata, Executive Director
The Chamber is pleased to welcome the following new members; Coral Pregill Notary Service, Pampered Chef-In the Kitchen with Jenn Jen, T Mobile, Mile High Mill & Grain Co. and Lassen Modoc Express Charter Service. Join us in welcoming them as new members by supporting their businesses.
The Chamber board will meet on Thursday, October 14, 2021, for the monthly board meeting that will begin at noon, at Diamond Mountain Casino in the hotel conference room. The board encourages member attendance and comment; if you would like to address the board, please contact the office staff prior to the board meeting so that you can be added to the agenda. The board is accepting applications to fill the unexpired board seat. Chamber members that are interested in applying can contact the office staff to have an application forwarded to you.
Make plans to join us for the Thursday, October 14th, Chamber Mixer as Sierra Desert Properties and Les Schwab Tire team up to co-host this month's mixer that will be held at Sierra Desert Properties, located at 613 Main Street, in Historic Uptown Susanville, from 5:30 to 7:30pm. Stop by to enjoy live music featuring 'Timeless', no-host bar, and appetizers. Everyone is welcomed; you do not need to be a Chamber member to attend, and we encourage you to bring a friend!
Historic Uptown Susanville Association will host the Annual Safe & Sane Halloween, Friday, October 29, 2021, from 3:00-5:00pm, in Historic Uptown Susanville. Uptown Main Street will be closed to thru traffic for safe passage during the event.  Bring your little ghosts and goblins, ages 12 and under, for a fun filled afternoon. There will be a Pet Costume Contest and Children's Costume Contest. All businesses are welcomed and encouraged to participate; contact Chairperson Melanie Westbrook at 250-7146.