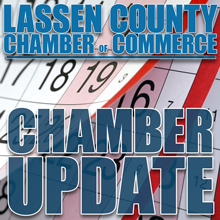 Kelly Ackley, Executive Director
I would like to introduce myself, Kelly Ackley as the new Executive Director with Lassen County's Chamber of Commerce. I am excited and honored to be taking this role for our community and look forward to working with everyone in the future. I would also like to thank Patti Hagata for her years of dedication to the Chamber and for establishing a great foundation as I make this transition.
The Chamber is pleased to welcome the following new members; Dance Elevation, Coral Pregill Notary Service, Pampered Chef-In the Kitchen with Jenn Jen, T Mobile, Mile High Mill & Grain Co. and Lassen Modoc Express Charter Service. Join us in welcoming them as new members by supporting their businesses.
Mark your calendar as Milwood Florist & Nursery, Treats Pet Co. hosts the November Chamber Mixer on Thursday, November 18th, 2021. The mixer will be held from 5:30pm to 7:30pm; food, and beverages will be served. You do not need to be a chamber member to attend, everyone is welcomed.
Long time board member Matthew Pregill, Pregill Insurance, Inc., has submitted his resignation from the board. We thank him for his many contributions during his time on the board – he will be missed! The board is accepting applications to fill the unexpired board seat. Chamber members that are interested in applying can contact the office staff to have an application forwarded to you.
Historic Uptown Susanville Association will host the Annual Safe & Sane Halloween, Friday, October 29, 2021, from 3:00-5:00pm, in Historic Uptown Susanville. Uptown Main Street will be closed to thru traffic for safe passage during the event.  Bring your little ghosts and goblins, ages 12 and under, for a fun filled afternoon. There will be a Pet Costume Contest and Children's Costume Contest. All businesses are welcomed and encouraged to participate; contact Chairperson Melanie Westbrook at (530) 250-7146.
Mark your calendar to attend this year's Magical Country Christmas Celebration that will be held on Saturday, December 4th, 5:00 to 7:00pm, in Historic Uptown Susanville, sponsored by Historic Uptown Susanville Association, City of Susanville, and Les Schwab Tires. The celebration includes musical entertainment, Christmas Parade, Toys for Tots drive, and fireworks to ring in the Christmas Season. Uptown Main Street will be closed to thru traffic during the celebration. This is a fun filled event for the whole family. Christmas Parade and vendor entry forms are available at the Chamber office or by logging on to www.lassencountychamber.org
Join Alliance for Workforce Development for their Lassen County Fall Job Fair, in person November 16, 2:00 to 6:00pm, Lassen County Fairgrounds – Jensen Hall. Please contact Cheyenne Ratkey at (530) 977-7404 or cratkey@ncen.org for more information.
We are pleased to have Business Advisor Clint Koble, from the Sierra Small Business Development Center, available for Free small business consulting at the Lassen County Chamber of Commerce office. Clint can assist with questions on business, marketing plans, loan assistance, business plans and CA COVID-19 Grants or any other business-related questions that you may have.  Reservations to meet with Clint are required. Business Advisor Clint Koble can be reached at (775) 843-4081 or email him at clint.koble@gmail.com
Beginning October 24, 2021, local phone customers must dial 11-digit (area code + telephone number) for all local calls. This comes after FCC adopted rules to establish the three-digit number '988' as the new, nationwide, easy to remember phone number for Americans in crisis to connect with suicide prevention and mental health crisis counselors.
The Chamber will be ordering 2022 Labor Law Posters which feature all required federal and state notices on one poster. They will be available for sale to Chamber members for $30ea. / or non-member for $40 per poster. California employers and businesses are required to post updated employment posters at each place of business.  Contact the Chamber office staff at (530) 257-4323 if you would like to have a poster ordered for your business.