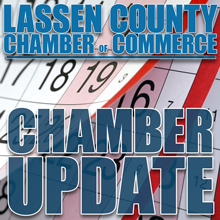 Kelly Ackley, Executive Director
This year's Magical Country Christmas has come and gone but what a great one it was! A big thanks to Historic Uptown Susanville Association, Les Schwab Tire Center, The City of Susanville and KSUE/KJDX, LCC Baseball, LMUD, Toys for Tots, all our vendors, parade entries, volunteers, Hot Toddy locations, Susanville LEO, Police Explorers, Susanville Fire Department, Public Works, C&S Waste, Westwood Sanitation, CHP, CalTrans, and special guest Lia Knight. We couldn't have done it without each and every one of you.
Last but not least, a special thanks to all of Susanville for coming out and sharing these special moments together. Until next year!
We would like to welcome one of our newest businesses and Chamber Member, Amanda Tannous with Dance Elevation. We had the honor of doing a ribbon cutting, welcoming her and her new business to Uptown Susanville. Give Amanda and her dance instructors a visit at their upcoming event, Winter Soiree, December 17th, contact Dance Elevation for more information.
Thank you to Plumas Bank for hosting the December mixer this month. What a way to close out our year of mixers. Plumas Bank and staff were full of jolly fun and festive cheer. If you are interested in becoming a mixer host, please call the Chamber office for more information.
It's the most magical time of year. Join us as we celebrate the season with #MagicMadeLocal. Stop by the Chamber office or any one of the participating chamber member businesses to pick up your magical shopping passport. Visit local businesses throughout our community to get a stamp in your passport.
Collect at least 5 stamps or signatures, return your passport to the chamber office by January 3, and you will be entered to win a gift basket full of local goodies! An updated list of participating locations can be found on our website, www.lassencountychamber.org.
Lassen High ASB will be putting on a Winter Carnival, Friday, December 10th at 4:00p.m., in the Student Center and Big Gym. There will be food, activities, vendor booths, and a special performance! Contact Rachel Stewart at (530) 257-2141 with any questions or to be a vendor.
Holiday Craft Fair featuring Pictures with Santa will be held at Lassen County Fairgrounds Saturday, December 11th and Sunday, December 12th from 11:00-4:00p.m.
J&J Performing Arts present their Christmas Extraordinaire at Susanville Veterans Hall; Saturday, December 11th and Sunday, December 12th, a mini show at 3:00pm and the main show at 5:00pm. Tickets are available at Margie's Book Nook and Zaengles.
Susanville Auto Center presents Santa's Village. Friday, December 17, 2021 from 3:00 – 6:00p.m., located at Susanville Auto Center, 704-485 Richmond Rd E. This event includes a visit with Santa, free 4X6 photos, letters to Santa and lots of sweet treats!
A Susanville Christmas, brought to you by the Susanville Symphony Society will be held this year at Susanville Assembly of God; Friday, December 17th at 7:00p.m. and Sunday, December 19th at 2:30p.m. Tickets are available at Margie's Book Nook and Axia Home Loans.
The Live Nativity, a free drive-thru event will be Saturday, December 18th, Sunday, December 19th, and Monday, December 20th from 7:00 – 8:00p.m., located at 905 Richmond Rd.
Don't forget to check out the Festival of Lights, the next couple of weekends (Fridays thru Sundays) and the whole week of Christmas located at Lassen County Fairgrounds.