Kelly Ackley, Executive Director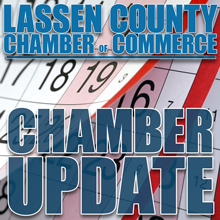 The Chamber office will be closed December 27th and closed again December 31st through January 3rd as we take some quality time to spend with our family and friends for the holidays.
Lake Almanor Area Chamber presents their New Year's Eve fireworks show, December 31st at 9:00p.m., to be viewed over the Chester airport.
Coppervale will be open daily through winter break. With a base elevation of 6,200 feet and a peak elevation of 9,050 feet, Coppervale packs enough groomed snow for some terrific downhill fun and features eight spectacular trails, a terrain park, a half-pipe and more than seven hundred feet of vertical drop. Cash only, there are no credit or debit card services at the resort. Located six miles east of Westwood. For information call the snow phone at (530) 251-8841.
Mark your calendars as Northern California Cancer Advocates will be holding a crab feed February 5th. Doors open at 5:30p.m., at the Susanville Elks Lodge. Tickets can be purchased at Lassen County Federal Credit Union and Grocery Outlet.
Lassen County Cattlemen and Cattlewomen present, A Taste of Beef, Sip of Wine. Saturday, February 12th from 5:30 to 8:30p.m., located at Susanville Elks Lodge. There will be live music by the band Timeless from 9:00 to 11:00p.m. You must be 21 years of age to attend. Tickets go on sale on January 1st and can be purchased at the Lassen County Fairgrounds or KJDX/KSUE Radio Station.
Don't forget to turn in your #MagicMadeLocal passports! Visit local businesses throughout our community to get a stamp in your passport. Collect at least five stamps or signatures, return your passport to the chamber office by January 3rd, and you will be entered to win a gift basket full of local goodies! An updated list of participating locations can be found on our website, www.lassencountychamber.org.