Kelly Ackley,
Chamber Executive Director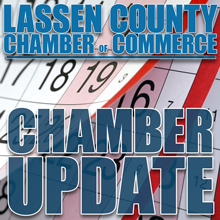 Happy New Year from all of us here at the Lassen County Chamber of Commerce!
C&S Waste Solutions will be picking up Christmas trees this week, January 3rd through the 7th. Please, leave your trees completely bare of decorations and place the tree out with your cart on your regular service day before 6:00a.m. Thank you C&S Waste Solutions.
The Westwood Area Chamber of Commerce will be presenting their 12th annual Chowder Cook-Off, Saturday, January 15th, at the Westwood Visitors Center from 12:00 to 4:00p.m., rain or shine.
Tasting kits are sold for $5 and the cooking team entry fee is $25. This event offers live music, a bounce house, vendors and $700 in cash prizes. For more information contact 1.530.256.2456.
Join CASA for a night of family fun to watch the movie Small Foot, at 5:00p.m., Saturday, January 15th, at the Community Church of Susanville. Don't forget to bring pillows and blankets. Event entry and concessions are by donation. Please contact the LFS CASA program at 1.530.257.4599 with any questions.
Mark your calendars as Northern California Cancer Advocates will be holding a crab feed February 5th. Doors open at 5:30p.m., at the Susanville Elks Lodge. Tickets can be purchased at the Lassen County Federal Credit Union and the Grocery Outlet.
The Lassen County Cattlemen and Cattlewomen will present, A Taste of Beef, Sip of Wine. Saturday, February 12th from 5:30 to 8:30p.m., at Susanville Elks Lodge. There will be live music by the band Timeless from 9:00 to 11:00p.m. You must be 21 years of age to attend. Tickets can be purchased at the Lassen County Fairgrounds or KJDX/KSUE Radio Station.