Kelly Ackley,
Chamber Executive Director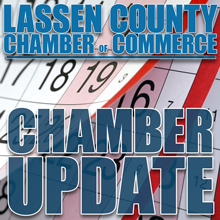 Join Lassen Community College for a special ceremony to honor Bob Genasci, a longtime member of the Cougar family, for the dedication of the Lassen College Sports Complex in Mr. Genasci's name. The ceremony will be held on January 15th, at 2:00p.m., and will take place between the women's and men's basketball games in the LCC Gymnasium.
The Westwood Area Chamber of Commerce presents their 12th annual Chowder Cook Off, Saturday, January 15th at the Westwood Visitors Center from 12:00 to 4:00p.m., rain or shine. Tasting kits are sold for $5 and the cooking team entry fee is $25. This event offers live music, a bounce house, vendors and $700 in cash prizes. For more information contact (530)256-2456.
Join CASA for a night of family fun to watch the movie 'Small Foot'. Saturday, January 15th, 5:00p.m., at the Community Church of Susanville. Don't forget to bring pillows and blankets. Event entry and concessions by donation. Please contact the LFS CASA program at 1.530.257.4599 with any questions.
Coventry Gardens at the Walker Mansion in Westwood will be hosting their annual Afternoon Friendship Tea, Sunday, January 16th, with seating times at 11:30a.m., and 3:00p.m. Reservations are required, adults are $21.95, and children 12 and under are $14.95. Please contact 1.530.256.2133 or coventrygardens@yahoo.com
Fire up the grill! Lassen County Cowboy Festival Chili Cook Off, February 5th, cooking at 11:00a.m., and tasting at 3:00p.m., located within the Lassen County Fairgrounds. Registration is $20 and can be found on the fair's website at lassencountyfair.org or at the fair office.
Mark your Calendars for Northern California Cancer Advocates Crab Feed on February 5th., at the Susanville Elks Lodge. Doors open at 5:30p.m. Tickets are $60 per person and can be purchased at Lassen County Federal Credit Union, Grocery Outlet or at the Chamber Office.
Peninsula Firemen's Association will be holding their Crab Feed, February 5th at the Lake Almanor Area Country Clubhouse, doors open at 5:00p.m., and dinner is served at 6:00p.m. Tickets are $65 per person and can be purchased in Chester at Fire Station #2, Tantardino's Pizza & Pasta or Rouland's Insurance Agency. 'Crab & Go' is also available for $50 per person. For more information, call 1.530.259.2306.
Lassen County Cattlemen and Cattlewomen Presents, A Taste of Beef A Sip of Wine on Saturday, February 12th from 5:30 – 8:30p.m., at the Susanville Elks Lodge. Live music by the band Timeless plays from 9:00 – 11:00p.m. Must be 21 years of age to attend. Presale tickets are $35 per person and can be purchased at the Lassen County Fairgrounds or KJDX/KSUE Radio Station.
Mark your calendar for the first chamber mixer of 2022. Lassen County Fair will host the February chamber mixer on Thursday, February 17th, the mixer will be held from 5:30 to 7:30p.m., at Lassen County Fairgrounds. Stop by to enjoy a no-host bar featuring a specialty cocktail. Everyone is welcome; you do not need to be a chamber member to attend, and we encourage you to bring a friend.
Save the Dates. Lassen Youth Football and Cheer Early Bird Registration, February 11th, and February 25th from 5:00 – 7:00p.m., at the Comfort Inn in Susanville. Online early bird registration is also available for the whole month of February. Follow their Facebook page at Lassen Youth Football and Cheer for updates and more information.
Don't forget to email director@lassencountychamber.org with any upcoming event or swing by the chamber office at 1516 Main Street with any event posters.