Kelly Ackley,
Chamber Executive Director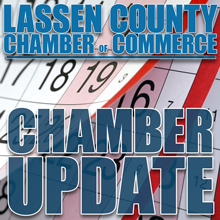 Hello, Spring! After having to postpone this event for the past two years, we are ready to bring to you our 14th annual Spring Show, Saturday, April 30th from 10:00a.m. to 3:00p.m. at Lassen County Fairgrounds. If your business fits into Home, Garden, Recreation or Wedding Vendor, we welcome you.
Tune in as 93 KJDX will be doing a Live Broadcast during the show. Applications can be found on our website at www.lassencountychamber.org or at the Chamber office 1516 Main Street in Susanville. For more information call 1.530.257.4323.
Join Lassen Family Services for their ninth annual Walk a Mile in Their Shoes event to raise awareness for sexual assault and child abuse, Saturday, April 30th from 10:00a.m. to 2:00p.m. This is a mile-long color walk through mid-town Susanville starting and ending at Memorial Park.
Sign up at www.walkamile2022.eventbrite.com. For more information, or to be a vendor please contact 1.530.257.5459.
Join Wemple's Pumpkin Patch for two, fun filled days of Spring on the Farm, Saturday, April 30th, and Sunday May 1st from 9:00a.m. to 4:00p.m., 450-525 Wemple Lane in Milford. This event features a craft fair in the barn, antique trucks and tractors, baby animals, big tractor rides, food, and a full day of fun. For more information call (530) 253-2514 or visit www.wemplespumpkinpatch.com.
Lassen High School Class of 2025 will be holding an art auction full of wonderful and unique artwork on April 30th in the school's Student Center, with all the money raised going straight into the Freshman class fund. The student art will be auctioned to the highest bidder's during the live auction portion of the evening. The art viewing and silent auction will be open at 5:30p.m., and the live auction will begin at 6:30p.m. The whole community is invited to come and support the freshman class by bidding on their art, bidding on a silent auction item, or simply giving a donation.
Mark your calendar for Honey Lake Chapter Ducks Unlimited Annual Banquet Event. Switching back to the Spring, this banquet dinner will be held at Veterans Memorial Hall, Saturday, May 7th, doors open at 5:00p.m., and dinner to be served at 5:30. Join the fun for live auction, silent auction, raffles, guns and more. For more information, call 1.831.233.9728 or 1.559.579.7792 or visit www.norcaldu.org.
Fun, Friends, Food, and Prizes. Lassen County Farm Bureau brings to you the 2022 Farm Bureau Classic Golf Tournament, Saturday, May 7th at Diamond Mountain Golf Course, shotgun start at 9:00a.m. You can sign up at the Clubhouse or call Naomi at 1.530.310.3496.
Lassen County Office of Education presents Lassen County Children's Fair, Saturday, May 7th from 10:00a.m., to 4:00p.m., at Lassen County Fairgrounds. This event offers free admission, food, fun, games, resource booths, entertainment, vehicle displays and more. For more information call the LCOE at 1.530.251.8711.
Get ready for a fabulous Monticola Club's Mother's Day Brunch and "spoil" your moms. Beautiful Décor, mouthwatering homemade scrumptious French toast, eggs, desserts, breads, muffins, and frittatas. Top it off with mimosas and of course raffles. There will also be a pianist who will make this Mother's Day memorable with live music.
Get your tickets today for just $30 at Margie's Book Nook, or call 1.530.310.3496. All proceeds from this fundraiser will go to community projects (swimming pool, senior center, food pantries) and local scholarships.
Calling All Homebrewers. Lassen Land Trails Trust is hosting their 3rd Annual Lassen Homebrew Festival, Saturday, May 7th, from 5:00 until 7:00p.m., at the Historic Susanville Railroad Depot. All beer styles welcome, awards for Judge's and People's Choice. Register online at www.lassenlandandtrailstrust.org or contact Andrew at 1.708.351.6832.
Mark your calendar for this year's Margarita Fest hosted by Soroptimist of Susanville. Margarita Fest will be held Friday, May 13th from 6:00 – 9:00p.m., at Jensen Hall at the Lassen County Fairgrounds. Enjoy 10 margarita flavors, a nacho bar and salsa contest sponsored by Sierra Desert Properties. Tickets are only $25 and can be purchased at Axia Home Loans or Haven Salon.
Don't forget to email director@lassencountychamber.org with any upcoming event or swing by the Chamber Office at 1516 Main Street with any event posters.