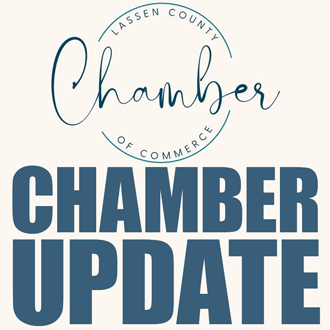 Kelly Ackley,
Chamber Executive Director
The Chamber board is accepting applications to fill a board vacancy. Chamber members interested are encouraged to apply. The deadline to apply is Monday, September 5th. Stop by our office at 1516 Main Street to pick up a Board of Directors application or contact the office to have one forwarded to you.
The Chamber board will meet on Thursday, September 8th, 2022, for their monthly board meeting that will begin at 12:00p.m., at the Diamond Mountain Casino Boardroom. The board encourages member attendance and comment; if you would like to address the board, please contact the office staff prior to the board meeting so that you can be added to the agenda.
Lassen County Chamber of Commerce will be hosting a Chamber Mixer, Wednesday, August 17th from 5:30 to 7:30p.m., at Susanville's Wednesday Night Farmer's Market. Enjoy all that the market has to offer and more! We will be hosting a Beer Garden and will have live entertainment by the band, 'Timeless'. There will be raffles sponsored by Susanville Historic Uptown Businesses. Put your dancing shoes on and come enjoy an evening of fun!
Susanville Farmer's Market on Pancera Plaza in Historic Uptown Susanville is held every Saturday, from 8:00 to 12:00p.m., thru October 1st. This year there will be several Wednesday evening markets. The market features fresh produce, meats, local crafts, delicious food, and more. The organizers of the market are planning to bring even more vendors and excitement to this year's market so be sure to add the farmer's market to your Saturday and see what they have to offer. For more information or to become a vendor, contact farmersmarket@larpcooperative.com.
Lassen County Arts Council's 'The Watercolor Show' is now open, with a reception to be held, on August 17th from 5:00 to 7:00p.m. This show will run thru the 26th of August; Watercolors by Susan Dunklau, Jacquie Cordova, and Sally Posner.
Lassen Community College wants to remind you that school started, Monday, August 15th and counselors are ready to register students for Fall classes. It's not too late to get started in a new future! Please, call 530.251.8842 to make an appointment today.
Bottle & Brush Art Bar is hosting a Trivia Night on Thursday, August 18th at 6:00p.m. Trivia Night will be every other Thursday. Entry is $5 per person. Teams are a minimum of 2 players and a max of 4 players. Enjoy the drink specials: $1 off all beers and $8 Micheladas! For more information, contact 530.250.3701.
Lassen Family Services' CASA presents the 5th Annual Superhero 5k Fun Run & Walk, Saturday, August 20th. General admission is $20. For more information, contact CASA at 530.250.3927.
Mark your calendars for an Art Reception at Bottle & Brush Art Bar, Thursday, August 25th from 5:30p.m. to 7:30p.m. Come have an evening of art, nibbles, wine, and good company! Featured Artists include Michael Giampoli, Rob McBride, and Randy Robbins. Additional artists may be added. For more information, contact 530.250.3701.
CASA will be hosting a movie night featuring 'Inside Out,' Saturday, August 29th at 8:00p.m., at Lassen Community College. Event entry and concessions are by donation. Don't forget your pillows, blankets, and bug spray!
Lassen Senior Services is holding a raffle fundraiser for a chance to win a Traeger Pellet Smoker Pro 34 Model. Drawing will be held on September 1st at 5:00p.m., at the Lassen Senior Center. Tickets are $20 each and you do not need to be present to win. For more information, contact 530.257.2113.
CCC & HDSP Cram the Van event will be held September 9th from 3:00 to 7:00p.m., at Susanville IGA. They will be accepting canned goods, dry foods, non-perishable, and toiletries. For more information, contact 530.257.4599.
Don't forget to email with any upcoming event or swing by the Chamber Office at 1516 Main Street with any event posters!