Kelly Ackley,
Chamber Executive Director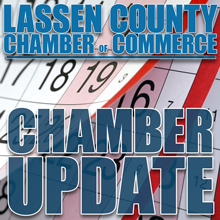 In case you haven't heard, Random Acts of Kindness Day is Thursday, February 17th. Random Acts of Kindness Day is a day to celebrate and encourage random acts of kindness.
Mark your calendar for the first Chamber Mixer of 2022! Lassen County Fair will host the February Chamber Mixer on Thursday, February 17, 2021, the mixer will be held from 5:30 to 7:30p.m., at Lassen County Fairgrounds. Stop by to enjoy a no-host bar featuring a specialty cocktail, live music by the band 'Timeless', small bites and a raffle! Everyone is welcomed; you do not need to be a chamber member to attend, and we encourage you to bring a friend!
For the month of February, the Lassen County Probation Department's Appreciation Hearts fundraiser will give community members a chance to send a 'bucket of hearts' to a person they appreciate, while contributing to a great cause! Visit www.givebutter.com/lassencountyprobationfundraiser or contact 530.251.8173 to pay it forward.
Need an entertaining date idea for Valentine's Day? The Culinary Club is hosting a sushi class on February 14th, at 6:00p.m., in the Student Center. Learn how to make sushi and enjoy your creations. Couples are $12 and singles are $8. Find someone in Culinary Club or see Mrs. Reger in room 116 for tickets.
Coppervale Ski Area will be hosting a retro weekend, February 19th and 20th – Presidents Day weekend. Dig out those old ski suit onesies and let them have their day! You will also receive a pair of sweet retro sunglasses with the purchase of a lift while supplies last! Holiday rates: $40 full day, $30 half day. For more information visit their Facebook page, Coppervale Ski Area Page or contact 530.251.8841.
Susanville's Church of the Nazarene will be holding a once-in-a-lifetime event on February 22nd, from 5:30 to 7:30p.m. Marking the unique, euphonious date with an Ultimate Taco Twosday fundraiser benefiting the church's Spring Clothes Drive. For a ticket price of just $5 dollars per order you get two tacos, two sides, Rice/Beans and two cookies. You can eat at church, or you can take it to go. Susanville's Church of the Nazarene is located at 1275 Spring Ridge Drive.
The Alliance for Workforce Development, in partnership with America's Job Center of California, will be hosting a virtual version of their popular Job Fair on March 2nd, pairing local employers with quality job candidates from across four counties. Questions, contact Cheyenne at 530.927.7404 or cratkey@ncen.org.
Best of Broadway's 2022 production brings to you, the concert series, Home Again! Mark your calendar for eight performances the first two weeks of March! Tickets are $15 each and available at Margie's Book Nook, Zaengle's Floor and Home, and Lassen County Chamber of Commerce.
The Susanville Symphony Society brings to you The Susanville Swing Band, Saturday, March 19th at 7:00p.m., located at Susanville Elk's Lodge. Tickets are $25 and can be purchased at Margie's Book Nook or Axia Home Loans. For more information, visit their website at www.SusanvilleSymphony.com or call the Symphony Hotline at 530.310.8111.
Applications for Lassen County Farm Bureau scholarships and American Ag Credit are now available. These scholarships will be awarded to deserving high school or college students who are pursuing a career in agriculture or agri-business. Students can obtain applications on the Facebook page Lassen County Farm Bureau, by contacting their school counselors or calling the Lassen County Farm Bureau office at 530.257.7242. The application deadline is March 25, 2022.
The Susanville Farmer's Market is now looking for vendors for the 2022 season. Feel free to drop by Margie's Book Nook to grab a paper copy or head to their webpage to download a Vendor Application packet for this year www.larpcooperative.com/susanville-farmers-market/ Looking for produce, baked goods, meat, eggs, handmade goods, food and more to make this season the best one yet. If you have any questions, please reach out to farmersmarket@larpcooperative.com
Don't forget to email director@lassencountychamber.org with any upcoming event or swing by the Chamber Office at 1516 Main St. with any event posters.