Kelly Ackley,
Chamber Executive Director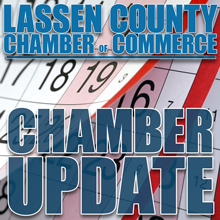 The Chamber office will be closed today, February 21st, in honor of President's Day. Thank you to Lassen County Fair for hosting a great Chamber Mixer!
Susanville's Church of the Nazarene will be holding a once-in-a-lifetime event on February 22nd, from 5:30 to 7:30p.m. The Ultimate Taco Twosday fundraiser benefits the church's Spring Clothes Drive. For a ticket price of just $5 dollars per order you get two tacos, two sides, Rice/Beans and two cookies. You can eat at church, or you can take it to go. Susanville's Church of the Nazarene is located at 1275 Spring Ridge Drive.
The Alliance for Workforce Development, in partnership with America's Job Center of California, will be hosting a virtual version of their popular Job Fair on March 2nd, pairing local employers with quality job candidates from across four counties. Questions, contact Cheyenne at 530.927.7404 or cratkey@ncen.org.
Best of Broadway's 2022 production brings to you, the concert series, Home Again. Mark your calendar for eight performances in the first two weeks of March. Tickets are $15 each and available at Margie's Book Nook, Zaengle's Floor and Home, and Lassen County Chamber of Commerce.
The Susanville Symphony Society brings to you The Susanville Swing Band, Saturday, March 19th at 7:00p.m., located at Susanville Elks Lodge. Tickets are $25 and can be purchased at Margie's Book Nook or Axia Home Loans. For more information, visit their website at www.SusanvilleSymphony.com or call the Symphony Hotline at (530)310-8111.
Applications for Lassen County Farm Bureau scholarships and American Ag Credit are now available. These scholarships will be awarded to deserving high school or college students who are pursuing a career in agriculture or agri-business. Students can obtain applications on the Facebook page Lassen County Farm Bureau, by contacting their school counselors or call the Lassen County Farm Bureau office at 530.257.7242. The application deadline is March 25, 2022.
Applications for Lassen Association of Realtors Scholarships are now available. This year LAR will be offering three $1000 scholarships. Students must be in their senior year attending a high school within Lassen County. For more information, call 530.257.5220. The application deadline is April 15th, 2022.
Applications for LMUD Scholarships are now available. LMUD is offering two $1,250 scholarships for high school seniors and one $500 scholarship for returning college students, in a program designed to enhance the education and resulting careers of deserving local students. Applications can be accessed on their website or for more information contact 1.530.257.4174. Application deadline is April 29th, 2022.
The Susanville Farmer's Market is now looking for vendors for the 2022 season. Feel free to drop by Margie's Book Nook to grab a paper copy or head to their webpage to download a Vendor Application packet for this year www.larpcooperative.com/susanville-farmers-market/ Looking for produce, baked goods, meat, eggs, handmade goods, food and more to make this season the best one yet. If you have any questions, please reach out to farmersmarket@larpcooperative.com
Don't forget to email director@lassencountychamber.org with any upcoming event or swing by the Chamber Office at 1516 Main St. with any event posters.