Kelly Ackley,
Chamber Executive Director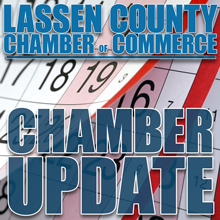 2022 Labor Law Posters have arrived and are ready for pick up. The Chamber Office located at 1516 Main Street is open Monday through Friday from 10:00a.m. until 3:00p.m., for questions, call (530) 257-4323. We have a limited quantity of extra posters, which feature all required federal and state notices on one poster, if you did not order a poster from us, they are available for purchase on a first come, first served basis. The cost per poster is $30.00 each for Chamber members or $40.00 per poster for non-members. California employers and businesses are required to post updated employment posters at each place of business.
Mark your calendars for the first annual Cowboy Festival February 4th and 5th at the Lassen County Fairgrounds. Enjoy live music, western vendors, cowboy poets, chili cook off and more. Tickets are available for purchase at lassencountyfair.org or at the fair office. Fire up the grill for the Chili Cook Off, February 5th, cooking at 11:00a.m. and tasting at 3:00p.m., located within the Lassen County Fairgrounds. Registration is $20 and can be found at lassencountyfair.org or at the fair office.
The Quincy Chamber of Commerce presents the Groundhog Fever Festival, Saturday, February 5th from 1:00 to 5:00p.m., on the Courthouse Lawn. Activities to include Chuck Wood's winter prediction, enjoy the annual Chili Cook-Off, honor our Honorary Mayor of Quincy, check out eligible bachelors and bachelorettes, enjoy some local wine and beer, and compete in several mini contests throughout the day. Fun for the entire family. Vendor booth applications and Chili Cook-Off applications can be found at www.quincychamber.com.
Mark your Calendars as Northern California Cancer Advocates brings to you their Crab Feed, February 5th, doors open at 5:30pm at the Susanville Elks Lodge. Tickets are $60 per person and can be purchased at Lassen County Federal Credit Union, Grocery Outlet or here at the Chamber Office.
Peninsula Firemen's Association presents their Crab Feed, February 5th at the Lake Almanor Area Country Club clubhouse, doors open at 5:00p.m. and dinner is served at 6:00. Tickets are $65 per person and can be purchased in Chester at Fire Station #2, Tantardino's Pizza & Pasta or Rouland's Insurance Agency. "Crab & Go" is also available for $50 per person. For more information, call (530) 259-2306.
Lassen County Cattlemen & Cattlewomen Presents, A Taste of Beef A Sip of Wine. Saturday, February 12th from 5:30p.m. until 8:30p.m., at the Susanville Elks Lodge. Live music by the band Timeless plays from 9:00 to 11:00p.m. You must be 21 years of age to attend. Presale tickets are $35 per person and can be purchased at the Lassen County Fairgrounds or KJDX/KSUE Radio Station.
Join Lake Almanor Elks Lodge 2626 for a Valentine's Day Dinner, Monday, February 14th, doors open at 5:00p.m. A delicious dinner featuring ½ Cornish Game Hen, Scalloped Potatoes, Glazed Carrots, Salad and Dessert, all for just $14. Tickets can be purchased at Edward Jones in Chester, Rouland Insurance in Chester or you can call Mary Ann at (707) 479-1413.
Applications for Lassen County Farm Bureau scholarships and American Ag Credit are now available. These scholarships will be awarded to deserving high school or college students who are pursuing a career in agriculture or agri-business. Students can obtain applications on the Face Book page Lassen County Farm Bureau, by contacting their school counselors or call the Lassen County Farm Bureau office at (530) 257-7242. The application deadline is March 25, 2022.
Save the Dates. Lassen Youth Football and Cheer Early Bird Registration, February 11th, and February 25th from 5:00p.m. to 7:00p.m., at the Comfort Inn in Susanville. Online early bird registration is also available for the whole month of February. Follow their Facebook page @ Lassen Youth Football and Cheer for updates and more information.
Susanville Little League early bird in person signups will be held at Janesville Pizza Factory, February 1st from 5:30 until 7:30p.m., and Susanville Pizza Factory, February 16th from 6:30p.m. to 8:00p.m. or sign up online. Sign up Deadline March 4th. Contact Cesar Gonzalez at (530) 260-4966 or Amanda at (775) 857-9900.
Lassen Fastpitch Softball early bird signups January 26th from 5:00 to 7:00p.m. at the Comfort Inn and Suites to receive a $10 discount. All girls welcome from Chester to Doyle. All players must bring a copy of their birth certificate. The league is looking for coaches and umpires, a $20 discount for head coaches on one child. Contact Angela Cisneros at (559) 805-2044 with any questions.
The Susanville Farmer's Market is now looking for vendors for the 2022 season. Feel free to drop by Margie's Book Nook to grab a paper copy or head to our webpage to download a Vendor Application packet for this year https://www.larpcooperative.com/susanville-farmers-market/ Looking for produce, baked goods, meat, eggs, handmade goods, food and more to make this season the best one yet. If you have any questions, please reach out to farmersmarket@larpcooperative.com
Mark your calendar for the first Chamber Mixer of 2022. Lassen County Fair will host the February Chamber Mixer on Thursday, February 17th, the mixer will be held from 5:30 to 7:30p.m. at the Lassen County Fairgrounds. Stop by to enjoy a no-host bar featuring a specialty cocktail, live music by the band "Timeless", small bites and a raffle! Everyone is welcome, you do not need to be a chamber member to attend, and we encourage you to bring a friend.
Don't forget to email director@lassencountychamber.org with any upcoming event or swing by the Chamber Office at 1516 Main Street with any event posters.