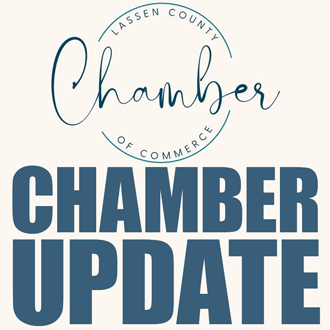 Kelly Ackley, Chamber Executive Director
The Lassen County Chamber of Commerce's 15th annual Spring Show is Saturday, April 29th from 10:00 – 3:00p.m., at the Lassen County Fairgrounds. They are looking for Home, Garden, or Recreation Vendors. Applications can be found on the website at www.lassencountychamber.org or at the Chamber office at 1516 Main Street in Susanville. For more information call, 530.257.4323.
Trivia night. Join the fun with Bottle & Brush Art Bar. Regular Trivia Nights are the second and fourth Tuesdays every month at 6:30p.m. The entry fee is $5 cash per player, and the team size is limited to four people. Feel free to come by early to get your drinks and order a charcuterie board for your table. Enter the very first Trivia Madness Week! This tournament is open to employees of any school district or district office. The entry fee is $25 per team, and the team size is limited to four people. There will be two prelim nights, March 14th and 16th. The final top 8 teams will compete on Friday, March 17th. Signups are happening soon. For more information, contact 530.250.3701.
Events for Lassen Library. Storytime is every Tuesday and Wednesday at 11:00a.m. Saturday Craft Day will be held Saturday, March 18th from 11:00 – 12:30p.m., join in as they paint birdhouses for the kids to take home and hang in their yard, just in time for Spring. Book Club is Wednesday, March 8th at 9:30a.m., discussing last month's book, 'All Creatures Great and Small' by James Herriot and handing out the book for next month's meeting: 'The Underground Railroad' by Colson Whitehead. Volunteer Tutors are needed. The literacy program is recruiting volunteer tutors for one-on-one tutoring for adult literacy learners.
Eat, Drink and Be Irish. Join Knights of Columbus Sacred Heart Catholic Church on Friday, March 18 from 4:00 – 7:00p.m., at Monsignor Moran Hall for corned beef and cabbage. For more information contact the Knights of Columbus at 530.249.0022.
Lassen County Arts Council's current show features paintings by an amazing you man, Connor Fogal, who was born with cerebral palsy but hasn't let it slow him down. The show is currently up through March 25th. Hours: Thursdays and Fridays 4:00 – 7:00p.m., and Saturdays, 9:00 – 4:00p.m. Preview the show and learn more on their website, www.lassencountyartscouncil.org. If you have more questions, please contact the Cottage Street Gallery at 530.257.5222, or email: info@lassencountyartscouncil.org
The Susanville Swing Band, brought to you by the Susanville Symphony will have a concert on Saturday, March 25th at 7:00p.m., located at the Susanville Elk's Lodge. Tickets are available at Susanville Dental Care and Margies Book Nook. For ticket information call 530.310.8111.
Call to Artists. Lassen County Arts Council is getting ready for its Annual High School Exhibit Art Show in April and May 2023. All Lassen County High School students are eligible to submit their works at The Cottage Street Gallery. All mediums accepted. Submissions are due March 24th. For more information contact LCAC at info@lassencountyartscouncil.org.
Benson's Humble Homestead is happy to announce Breakfast on the Farm. This event will be held Saturday, March 25th at 9:00a.m., located at 712-960 Sunnyside Road in Janesville. Activities include a waffle bar with decorating contest, local vendors and a petting zoo. For more information, contact 514.660.8191.
Applications for Lassen County Farm Bureau scholarships are now available. These scholarships will be awarded to deserving high school or college students who are pursuing a career in agriculture or agri-business. For more information call the Lassen County Farm Bureau office at 530.257.7242. The application deadline is March 24, 2023.
The rumors are true. Lake Almanor Area Chamber is very excited to be bringing an Ice-Skating Rink to Chester this winter. They are hoping it will bring joy and fun activities for the youth and families in this area. The ice-skating rink will be available on the weekends until March 26, 2023. Guests can skate in 45-minute sessions for $5 per person, and that includes skate rentals. Hours of Operation: Fridays 4:00 – 8:00p.m., Saturdays 12:00 – 4:00p.m., and Sundays 12:00 – 4:00p.m. These times are subject to change. For more information, contact the Lake Almanor Area Chamber of Commerce at 530.258.2426.
We know it doesn't look like winter will ever end, but we promise, Spring is right around the corner, and that means the Annual Community Easter Egg Hunt will be here soon. SusanvilleStuff is looking for individuals, groups, or organizations who would like to help stuff eggs and hide them on the day of the hunt. This year the Easter Egg Hunt will be held on April 8th and Egg stuffing will be on Wednesday, March 29th, at 4:00p.m., at the Lassen County Fairgrounds. You can email mcouso@susanvillestuff.com for any questions.
STAND UP AGAINST CHILD ABUSE. Join Lassen Family Services on Saturday, April 1st from 10:00 – 2:00p.m., for a Free family-friendly event to encourage positive interactions with emergency personnel. There will be games, activities, and food. Located at Lassen Family Services 1306 Riverside Drive. For more information, please call 530.257.4599
Susanville All Indian Men's and Women's Basketball Tournament is to be held at Susanville Indian Rancheria from April 14th through the 16th. For more information contact Curtis at 530.310.1543 or Curtis_12_@live.com. Vendors can contact Ashley at 530.251.6382 or Toni at 530.260.0299.
Don't forget to email the Chamber with any upcoming event or swing by the Chamber Office at 1516 Main Street with event posters. director@lassencountychamber.org