Kelly Ackley,
Chamber Executive Director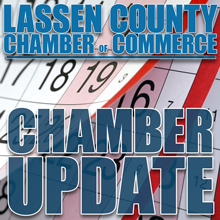 Mark your calendar for this month's Chamber Mixer, hosted by Diamond Mountain Casino & Hotel. Expect an evening of fun with live entertainment by Tim Knecht, food, drinks, and a raffle. We hope to see you all there, Thursday, May 19th from 5:30 to 7:30p.m.
Lassen Humane Society is holding its 15th Annual Yard Sale. This year's Yard Sale will be held Friday, May 20th, Saturday, May 21st, and Sunday, May 22nd. For more information, please call and leave a message at 530.251.7247.
The Richmond Community Association will be holding a fundraiser, Movie Night Under the Stars, Friday, May 20th at 8:00p.m., featuring Disney's Lilo & Stitch at Richmond Elementary School. Tickets are $10 per family and concessions will be available. All proceeds benefit Mrs. Clarks Leadership Class and the Richmond Community Association.
Susanville Police K-9 Program will be hosting a fundraiser golf tournament, Saturday, May 21st at Diamond Mountain Golf Club. Registration starts at 7:00a.m., with a shotgun start at 8:00a.m. For more information or to register, contact 530.249.5215.
The annual Lassen Sportsman's Club Junior Fishing Derby along Paiute Creek and Susan River is scheduled to be held on May 21st. The busy morning starts at 5:00a.m., with free registration and check in at Memorial Park, registration and check-in end at 9:00a.m. Derby prizes will be awarded after 3:00p.m., at the close of the event, and winners do not need to be present to win. However, kids shooting for the 'largest fish' prizes should be off the river by 2:45p.m., and must be in line for weigh-in by 3:00p.m., to qualify. Door prizes will be drawn at the same time and for these, winners must be present. Kids ages 2 to 15 are invited to enjoy a beautiful morning of fishing but don't forget to dress warmly as mornings along the river are still chilly.
The Susanville Symphony Society brings to you, 'A Classical Pops Concert' Saturday, May 21st at 7:00p.m., located at the Susanville Assembly of God, 473-465 Richmond Rd. Tickets are available at Axia Home Loans and Margie's Book Nook. For more information, contact 530.310.8111 or visit www.susavnillesymphony.com.
The Lassen Fair is excited to announce their Junior Fairboard will be hosting 'Footloose at the Fairgrounds,' Saturday, May 21st. There will be local vendors selling popcorn, candy, Mini Benniz, specialty coffee and drinks. Gates open at 7:00p.m., and the show starts at 8:00p.m., the cost is $10 per car.
Mark your calendar for Gala Night for CASA Appreciation, this will be a fundraiser and silent auction event benefiting The Children of Lassen County in the CASA Program. Saturday, May 28th doors open at 5:30p.m., dinner is served at 7:00p.m., at Sentimental Journey Ranch In Janesville. $40 per plate for ages 21+ Tickets are available at Margie's Book Nook, Zaengles Floor & Home and Lassen Family Services. For more information, contact CASA at 530.250.3927.
Susanville Area Bicycle Association is hosting Ridin' High at the Ranch. This will be held at Susanville Ranch Park on Saturday, May 28th. This will be Race #2 of the event to be held in Susanville. Race #1 in Nevada City and Race #3 in Grass Valley. Register at https://ybonc.org/events/dirt-class.
Come join the fun at the Susanville Air Fair! Saturday, June 4th at the Susanville Municipal Airport with a pancake breakfast from 7:00 to 10:00a.m., featuring fly-ins, a car show, craft fair, aircraft display, and RC airplane demos. For more information, contact 530.257.2030.
Mark your calendars for the first annual Gary Felt Kilt Classic Golf Tournament, brought to you by Susanville Salvation Army, Sunrise Rotary and Lassen County Chamber of Commerce, Saturday, June 4th with a bagpipe ceremony at 8:30a.m., and shotgun start at 9:00a.m. Registration can be found at Diamond Mountain Golf Course or Susanville Salvation Army. We are still collecting donations for the raffle, if you would like to make a contribution, contact 530.257.4323.
Don't forget to email director@lassencountychamber.org with any upcoming event or swing by the Chamber Office at 1516 Main Street with any event posters.