Kelly Ackley,
Chamber Executive Director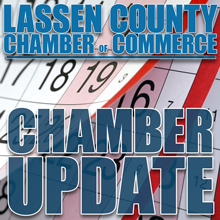 Mark your calendar for Gala Night for CASA Appreciation, this will be a fundraiser and silent auction event benefiting The Children of Lassen County in the CASA Program. Saturday, May 28th doors open at 5:30p.m., dinner is served at 7:00p.m., at Sentimental Journey Ranch In Janesville. $40 per plate for ages 21+ Tickets are available at Margie's Book Nook, Zaengles Floor & Home and Lassen Family Services. For more information, contact CASA at 530.250.3927.
Susanville Area Bicycle Association is hosting Ridin' High at the Ranch. This will be held at Susanville Ranch Park on Saturday, May 28th. This will be Race #2 of the event to be held in Susanville. Race #1 in Nevada City and Race #3 in Grass Valley. Register at https://ybonc.org/events/dirt-class.
Auditions for Susanville Best of Broadway Inaugural Summer Production, 'The Wizard of Oz' to be held, Saturday, June 4th from 10:00 – 2:00p.m., auditions will be held at Dance Elevation in Uptown Susanville. Ages 5+. Please allow one hour for audition process; come prepared to sing a short song, learn dance combo and script cold read. For more information, contact [email protected]
Come join the fun at the Susanville Air Fair! Saturday, June 4th at the Susanville Municipal Airport with a pancake breakfast from 7:00 to 10:00a.m., featuring fly-ins, a car show, craft fair, aircraft display, and RC airplane demos. For more information, contact 530.257.2030.
Mark your calendars for the first annual Gary Felt Kilt Classic Golf Tournament, brought to you by Susanville Salvation Army, Sunrise Rotary and Lassen County Chamber of Commerce, Saturday, June 4th with a bagpipe ceremony at 8:30a.m., and shotgun start at 9:00a.m. Registration can be found at Diamond Mountain Golf Course or Susanville Salvation Army. We are still collecting donations for the raffle, if you would like to make a contribution, contact 530.257.4323.
Don't forget to email [email protected] with any upcoming event or swing by the Chamber Office at 1516 Main Street with any event posters.