Kelly Ackley,
Chamber Executive Director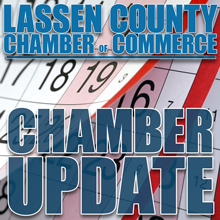 Thank you for a wonderful event at this year's Spring Show! A special thanks to Lassen County Fair and to all our sponsors: H&R Block, Jason Colbert Construction, Homme's Landscape, LMUD, Sierra Desert Properties, Tractor Supply, Les Schwab Tires, Zaengles Home & Floor, Plumas Bank, Pregill Insurance and JDX!
Mark your calendar for this month's Chamber Mixer! Hosted by Diamond Mountain Casino & Hotel, we expect an evening of fun. With live entertainment by Tim Knecht, food, drinks, and a raffle! We hope to see you all there, Thursday, May 19th from 5:30 to 7:30p.m.
Honey Lake Chapter Ducks Unlimited Annual Banquet Event. Switching back to the Spring, this banquet dinner will be held at Veterans Memorial Hall, Saturday, May 7th, doors open at 5:00p.m., and dinner is to be served at 5:30. Join the fun for the live auction, silent auction, raffles, guns and more. For more information, call 1.831.233.9728 or 1.559.579.7792 or visit www.norcaldu.org.
Fun, Friends, Food, and Prizes. Lassen County Farm Bureau brings to you the 2022 Farm Bureau Classic Golf Tournament, Saturday, May 7th at Diamond Mountain Golf Course, shotgun start at 9:00a.m. You can sign up at the Clubhouse or call Naomi at 1.530.310.3496.
Lassen County Office of Education presents Lassen County Children's Fair, Saturday, May 7th from 10:00a.m., to 4:00p.m., at Lassen County Fairgrounds. This event offers free admission, food, fun, games, resource booths, entertainment, vehicle displays and more. For more information call the LCOE at 1.530.251.8711.
Get ready for a fabulous Monticola Club's Mother's Day Brunch and "spoil" your moms. Beautiful Décor, mouthwatering homemade scrumptious French toast, eggs, desserts, breads, muffins, and frittatas. Top it off with mimosas and of course raffles. There will also be a pianist who will make this Mother's Day memorable with live music. Get your tickets today for just $30 at Margie's Book Nook, or call 1.530.310.3496. All proceeds from this fundraiser will go to community projects (swimming pool, senior center, food pantries) and local scholarships.
Calling All Homebrewers. Lassen Land Trails Trust is hosting their 3rd Annual Lassen Homebrew Festival, Saturday, May 7th, from 5:00 until 7:00p.m., at the Historic Susanville Railroad Depot. All beer styles welcome, awards for Judge's and People's Choice. Register online at www.lassenlandandtrailstrust.org or contact Andrew at 1.708.351.6832.
Mark your calendar for this year's Margarita Fest hosted by Soroptimist of Susanville. Margarita Fest will be held Friday, May 13th from 6:00 – 9:00p.m., at Jensen Hall at the Lassen County Fairgrounds. Enjoy 10 margarita flavors, a nacho bar and salsa contest sponsored by Sierra Desert Properties. Tickets are only $25 and can be purchased at Axia Home Loans or Haven Salon.
Lassen Humane Society is holding its 15th Annual Yard Sale! They need your donations starting May 9th thru May 16th from 9:00 – 3:00p.m., they will be accepting new or gently used items. This year's Yard Sale will be held Friday, May 20th, Saturday, May 21st, and Sunday, May 22nd. For more information, please call and leave a message at 530.251.7247.
The Susanville Symphony Society brings to you, 'A Classical Pops Concert' Saturday, May 21st at 7:00p.m., located at the Susanville Assembly of God, 473-465 Richmond Rd. Tickets are available at Axia Home Loans and Margie's Book Nook. For more information, contact 530.310.8111 or visit www.susavnillesymphony.com.
Mark your calendar for Gala Night for CASA Appreciation, this will be a fundraiser and silent auction event benefiting The Children of Lassen County in the CASA Program. Saturday, May 28th doors open at 5:30p.m., dinner is served at 7:00p.m., at Sentimental Journey Ranch In Janesville. $40 per plate for ages 21+ Tickets are available at Margie's Book Nook, Zaengles Floor & Home and Lassen Family Services. For more information, contact CASA at 530.250.3927.
Susanville Area Bicycle Association is hosting Ridin' High at the Ranch. This will be held at Susanville Ranch Park on Saturday, May 28th. This will be Race #2 of the event to be held in Susanville. Race #1 in Nevada City and Race #3 in Grass Valley. Register at https://ybonc.org/events/dirt-class.
Don't forget to email director@lassencountychamber.org with any upcoming event or swing by the Chamber Office at 1516 Main Street with any event posters.