Kelly Ackley, Chamber Executive Director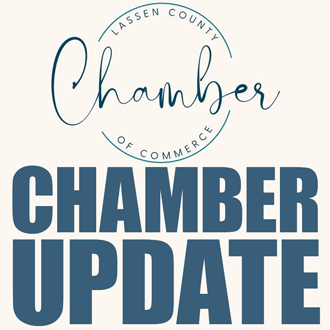 Lassen County Chamber of Commerce has launched it's Holiday Shopping Campaign, Magic Made Local. This year they have 23 participating businesses around town for you to get all your holiday shopping needs! This campaign will run through December 20th. Once you have visited 5 or more of the participating locations and received stamps in your brochure you may drop it off at the Chamber office, 1516 Main Street for a chance to win raffle baskets. For more information or to pick up a brochure, visit the Chamber office.
Make plans to join us for the November Chamber Mixer hosted by Milwood Florist, Thursday, November 17th from 5:30 – 7:30p.m., located at 2020 Main Street, Susanville. Stop by and enjoy a no-host bar and appetizers. Everyone is welcome, you do not need to be a Chamber member to attend and we encourage you to bring a friend!
The City of Susanville annual leaf collection will run from October 21st through December 5th. City of Susanville residents may drop off bagged leaves at the vacant lot at the intersection of Skyline Road and Numa Road. Make sure bags are securely tied, no waste or trash allowed, bagged leaves only. The weight limit is 40lbs. If you need assistance, please call 530.257.1041 to arrange a pickup of tied and bagged leaves.
Alliance for Workforce Development will be hosting an in-person Job Fair for Lassen County, Wednesday, November 16 from 11:00 – 2:00p.m., at Jensen Hall, Lassen County Fairgrounds. This is a great opportunity to connect with multiple local employers and view a variety of job openings in Lassen County and surrounding areas! If you need assistance with your resume or have questions, please contact the Susanville office at 530.257.5057.
The 19th annual Honey Lake Hospice 'Light Up A Life' Tree Lighting will be held on Saturday, November 19th, 2022 at 6:30p.m., at the Methodist Fellowship Hall, 635 Cottage Street in Susanville. This one-hour heartwarming ceremony takes place outdoors followed by an indoor reception with refreshments. Forms are available at Margie's Book Nook and Plumas Bank; $10/Dove – Laminated Paper, $100/Perpetual Dove – Acrylic. For more information, contact Honey Lake Hospice at 530.257.3137.
Susanville Sunrise Rotary presents its 19th Annual Beer and Wine Tasting at Jensen Hall, Saturday, November 19th. Tickets are $35 per person which includes delicious appetizers and a commemorative glass; also offering a silent auction, no need to be present to win. Tickets are available from Susanville Sunrise Rotarians; for more information, contact Patty Gunderson at 530.310.2016.
Lassen Senior Services will be holding its 9th Annual Turkey Trot, Thursday, November 24 at 8:30a.m., located at 1700 Sunkist Drive in Susanville. The course is 3.1 miles and there will be prizes for the best costumes and the largest family group! Donations of non-perishable food or cash are appreciated. Let's fill the pantry for our low-income seniors. For more information, contact 530.257.2113
Lassen Hoops opening registration. Online sign-ups will run from October 24 through November 18th and can be accessed at http://clubs.bluesombrero.com/lassenhoops. In-person sign-ups will be Wednesday, November 2nd and Tuesday, November 15th from 5:30 – 7:00p.m., at Susanville Pizza Factory. 3rd through 6th grade boys and 3rd through 8th grade girls are eligible to register.
Susanville Assembly of God will be hosting a Free Thanksgiving Day Dinner, Thursday, November 24th from 11:00 – 2:00p.m. This will be dine-in, drive-thru, or delivery, located at 473-465 Richmond Road in Susanville. For more information, or to request delivery, please call 530.257.5000.
This year's Magical Country Christmas is just around the corner. Saturday, December 3rd from 4:00 – 7:00p.m. Ring in the Holiday season with Santa's grand entry parade, Christmas tree lighting, fireworks, vendors, food and beverages, a hot toddy walk for adults 21 and over, and free photos with Santa and Mrs. Claus. This is an evening you will not want to miss, so bundle up and bring the family to this year's Magical Country Christmas! Vendor and Parade entry forms can be found in the office or at www.lassencountychamber.org.
Susanville Blue Star Moms is excited to be back offering their craft fair, Friday, December 2nd and Saturday, December 3rd at the Veterans Memorial Hall. For more information, or to become a vendor, contact 530.310.1361.
Susanville City Kickettes bring to you their Christmas Extraordinaire, on December 10th at 6:00p.m, and December 11th at 4:00p.m., at the Veterans Memorial Hall. All J&J Dancers, singers and performers will be showcased at this recital. Tickets will be available at Margie's Book Nook & Zaengles Home Store. For more information go visit www.jandjperformingarts.com or call 530.260.1575.
Don't forget to email the Chamber with any upcoming event or swing by the Chamber Office at 1516 Main Street with event posters.