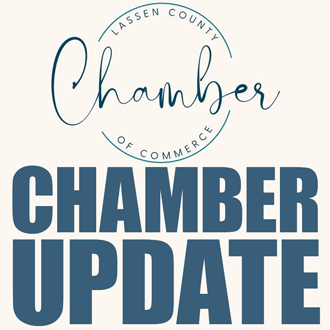 Kelly Ackley,
Chamber Executive Director
Mark your calendar for the September Chamber Mixer, hosted by the Lassen Association of Realtors, Thursday, September 15th from 5:30 to 7:30p.m., located at 1740 Main Street in Susanville. Live music from the Villebilly's and Vegas Double Down BBQ will be catering. Bring your family, friends, and neighbors for an evening of fun; everyone is welcome, you do not need to be a Chamber member to attend. For more information, contact the Chamber office at 530.257.4323.
Mark your calendar for Summer Blowout at Diamond Mountain Casino and Hotel, Saturday, September 17th from 4:00 to 10:00p.m. This end-of-summer community get-together is free to the public and open to all ages. Vendors pay no fee, and food trucks and craft booths are welcome. Live entertainment by Velvet Neon. For more information, contact 530.252.1100.
Join the fun for the 22nd Annual High Country Cruise, Saturday, September 17th from 9:00 – 4:00p.m., at Memorial Park in Susanville. This event is for pre-1975 cars and trucks and the entry fee is only $25. There will be raffle prizes, food concessions, vendors, and music by Jocko! All proceeds from the car show go to charity. For more information, contact Rich at 530.257.3857 or email resford100@frontiernet.net.
Mark your calendar as Susanville Symphony presents their 2022-2023 Concert Season, opening with Concert on the Green, Saturday, September 17th at 5:00p.m., located on the Historic Lassen Courthouse lawn. For more information or to purchase tickets, visit www.thesusanvillesymphony.com.
Don't miss the 8th annual Courage Triathlon at the Lake Almanor Country Club, Saturday, September 24th starting at 10:00a.m. This event is open to the public and will feature eleven vendors, pizza, coffee, snow cones, burgers, and an inspirational day all around for a good cause. Tickets can be purchased at www.couragerun.org.
Join Bottle & Brush Art Bar for an Oktoberfest celebration, Saturday, September 24th from 6:00 – 9:00p.m. There will be samples of a variety of beers from around the world as well as domestic craft beers. Tickets are $15 and will be available soon for purchase. For more information, contact, 530.250.3701.
Mark your calendars for a Centennial Celebration, 100 years of Milwood Florist! This event is to be held, Wednesday, September 28th from 5:30 – 8:30p.m., highlighting 100 years in business with live music, food and drinks. For more information, contact (530) 257-9194.
Lassen County Fair is hosting its 1st Annual Oktoberfest, September 30th – October 1st at the Lassen County Fairgrounds. This two-day event will have beer tastings, a best-dressed contest, mustache contest, adult competitions, live music, kid-friendly activities and more! To purchase tickets or for more information, visit www.lassencountyfair.org/oktoberfest/
Holiday with a Hero will be hosting their first annual Golf Tournament, Saturday, October 8 featuring an ugly sweater contest! This event will be a 4 person scramble at $400 per team, great raffle prizes, lunch provided by Susanville Grocery Outlet and Joe Camino. For more information, visit their Facebook page, Lassen County Holiday with a Hero.
Don't forget to email with any upcoming event or swing by the Chamber Office at 1516 Main Street with any event posters!