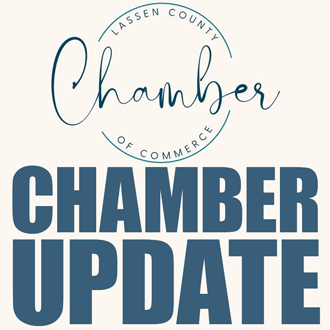 Kelly Ackley,
Chamber Executive Director
Join Bottle & Brush Art Bar for an Oktoberfest celebration, Saturday, September 24th from 6:00 – 9:00p.m. There will be samples of a variety of beers from around the world as well as domestic craft beers. Tickets are $15 and will be available soon for purchase. For more information, contact, 530.250.3701.
Mark your calendars for a Centennial Celebration, 100 years of Milwood Florist! This event is to be held, Wednesday, September 28th from 5:30 – 8:30p.m., highlighting 100 years in business with live music, food and drinks. For more information, contact (530) 257-9194.
Lassen County Fair is hosting its 1st Annual Oktoberfest, September 30th – October 1st at the Lassen County Fairgrounds. This two-day event will have beer tastings, a best-dressed contest, mustache contest, adult competitions, live music, kid-friendly activities and more! To purchase tickets or for more information, visit www.lassencountyfair.org/oktoberfest/
Holiday with a Hero will be hosting their first annual Golf Tournament, Saturday, October 8 featuring an ugly sweater contest! This event will be a 4 person scramble at $400 per team, great raffle prizes, lunch provided by Susanville Grocery Outlet and Joe Camino. For more information, visit their Facebook page, Lassen County Holiday with a Hero.
Lassen Land and Trails Trust will be hosting their Rails to Trails Festival, Saturday, October 8th from 10:00 – 3:00p.m., located at The Depot. This event will feature handcar races, chili cookoff and tasting, farmers market, vendors, kids activities, local beer, great food, caboose tours, live music and a raffle! For more information visit, www.lassenlandandtrailstrust.org.
Mark your calendar for this year's Dancing for a Brand New Me, Rio Carnival 2022. Hosted by Lassen Family Services, this two-day event helps to fundraise and bring awareness to domestic abuse and sexual assault. Kicking off Friday, October 14th at 7:00p.m., and Saturday, October 15th at 6:00p.m., located at the Veteran's Hall on Main Street this is a show you will not want to miss. Tickets can be purchased at Margie's Book Nook, Zaengles, or Lassen Family Services. For more information or to make a donation, contact 530.257.4599.
Susanville Best of Broadway is holding auditions for their 2023 concert series, 'Decades of Dreamers'. Auditions are open to all ages 6+ and all genders and skill levels. Come prepared to sing a chorus of a song of your choice and allow an hour and a half for the audition process. Audition dates are October 30 from 10:00 – 2:00p.m., or November 6th from 12:00 – 4:00p.m., located at the Veteran's Memorial Hall hall. For more information, visit www.susanvillebestofbroadway.org.
Don't forget to email with any upcoming event or swing by the Chamber Office at 1516 Main Street with any event posters!