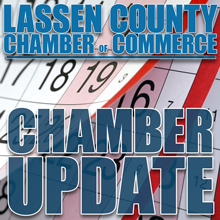 Patti Hagata, Executive Director
From all of us at the Lassen County Chamber of Commerce we extend heartfelt thanks for the support we have received this past year. We are fortunate to live in a community with so many individuals and businesses that are so giving and help us accomplish many activities throughout the year- we could not be successful without you! We wish you a happy and prosperous New Year!
The Chamber board will meet on Thursday, January 9, 2020 for the annual board training and planning meeting that will be held, from 9am to 1pm, at Diamond Mountain Casino in the hotel conference room. Members are always welcomed; please contact the chamber staff at 257-4323 if you would like to attend.
Congratulations to the 2020 officer team that were elected at the December   board meeting; President Gary Felt, retired; Vice President, Theresa Phillips, LMUD Public Relations Manager; and Treasurer, Mandy McGarva, CPA, PC.
2020 Labor Law poster have arrived and are now available for pickup at the Chamber office located at 1516 Main Street, Susanville.  We have a limited quantity of extra posters, which feature all required federal and state notices on one poster, available if you did not order a poster from us, they are available for purchase on a first-come-first served basis. The cost per poster is $30.00 each for Chamber members/ or non-member for $40.00 per poster. California employers and businesses are required to post updated employment posters at each place of business.
2020 membership dues notices have been sent out; your prompt payment is appreciated. Your investment in the Chamber makes possible the many services and events that promote and support business, tourism, and relocation into Lassen County. We appreciate your investment and hope you will choose to continue to be part of the Chamber team by investing for the coming year.  Remember that Chamber membership is tax deductible as a 'necessary business expense'.