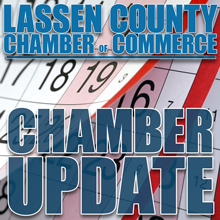 Patti Hagata, Executive Director
Make plans to join us at the first Chamber Mixer of the year that will be hosted by the Law Office of Stephen King, on Thursday, February 6, 2020. He and his staff are excited to welcome everyone to his newly renovated location at 2910 Riverside Drive, Susanville. The Mixer will be held from 5:30pm to 7:30pm, no-host bar and appetizers will be served. You do not need to be a Chamber member to attend, everyone is welcomed.
The 32nd Annual "A Taste of Beef, A Sip of Wine"  presented by The Lassen County Cattlemen and Cattlewomen, will be held on Saturday, February 8, 2020, at the Susanville Elks Lodge, from 5:30-8:30pm. Presale tickets are now on sale and can be purchased at the Chamber office. Who will be playing from 9pm until midnight.
Jobs Daughters will hold their annual "Crab Feed" on February 15, 2020. Two seating times will be available, at 4pm and 7pm, the cost is $45 per person. Ticket price includes crab, soup, salad, and garlic bread. Tickets can be purchased at Pregill Insurance, located at their new location at 629 Main Street, Susanville. For more information about the crab feed call 249-4866.
Chamber members should be sure that the Chamber's visitor lobby has an adequate supply of your business cards and brochures on hand to promote your business throughout the year. This is a free marketing service that is available to all Chamber members. Many materials have been depleted and are in need of restocking.
The board is accepting applications to fill a board vacancy. Thank you to Angie Crowley for her commitment and service while on the board; she has submitted her resignation. Chamber members who are interested in serving on the board are encouraged to apply. Contact the Chamber staff at 257-4323 to have an application forwarded to you or stop by the chamber office, located at 1516 Main Street, to pick up an application.