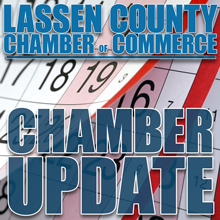 Patti Hagata, Executive Director
Jobs Daughters will hold their annual 'Crab Feed' on February 15, 2020. Two seating times will be available, at 4:00 and 7:00p.m., the cost is $45 per person. Ticket price includes crab, soup, salad, and garlic bread. A limited quantity of tickets are still available and can be purchased at Pregill Insurance, located at their new location at 629 Main Street, Susanville. For more information about the event call 249-4866.
The Chamber board will meet on Thursday, February 13, 2020 for the monthly board meeting, beginning at noon, at Diamond Mountain Casino in the hotel conference room. The board encourages member attendance and comment; if you would like to address the board please contact the office staff prior to the board meeting so that you can be added to the agenda.
At the January board training and planning meeting the board reviewed the previous year and discussed goals for the coming year. The board also received training that focused on the Chamber board member's roles and responsibilities. Committee for the year were also formed. You do not need to be on the board to serve on committees; we encourage and welcome your participation. If you are interested in serving on any of the committees, please contact the Chamber staff at 257-4323 to be added to the committee list.
The board is accepting applications to fill a board vacancy. Thank you to Angie Crowley for her commitment and service while on the board; she has submitted her resignation. Chamber members who are interested in serving on the board are encouraged to apply. Contact the Chamber staff at 257-4323 to have an application forwarded to you or stop by the Chamber office, located at 1516 Main Street, to pick up an application.