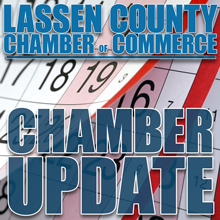 Patti Hagata, Executive Director
The board is accepting applications to fill a board vacancy. Thank you to Angie Crowley for her commitment and service while on the board; she has submitted her resignation. Chamber members who are interested in serving on the board are encouraged to apply. Contact the Chamber staff at 257-4323 to have an application forwarded to you or stop by the Chamber office, located at 1516 Main Street, to pick up an application.
We appreciate our members and the support that we receive throughout the year.  To show our appreciation we are offering a Main Street Digital Sign Advertising Special Rate to chamber members. The regular member rate is $100 per month/ or $35 per week; the Members Only Special Rate is $350 for the entire year of advertising. Contact the office staff at 257-4323 for more information. This "Special Rate" offer expires February 28, 2020.
Be sure that the Chamber's visitor lobby has an adequate supply of your business cards and brochures on hand to promote your business throughout the year. This is a free marketing service that is available to all Chamber members. Many brochures and business cards need restocking.
The Chamber would like to thank Taylor Hagata, Daniel Bertotti, Daren Hagata, Julie Brown, Wyatt Hanson, Matthew Pregill, and the LMUD crew for helping take down and pack up the community Christmas Tree and getting it back into storage. Thank you to Scott Purdy and the Les Swab Tire Crew for helping get the tree box put away.
Thank you to Mandy McGarva, CPA for the outstanding payroll and accounting service she provides to the chamber each month. We appreciate your support and professional service. Thank you to Diamond Mountain Casino & Hotel for the generous support of the Chamber Visitors Center.  We also would like to thank C& S Waste Solutions of Lassen County for providing the Chamber with reliable weekly garbage service. We would like to say thank you to the many volunteers who help the Chamber put on events throughout the year- we could not do it without your generous support.