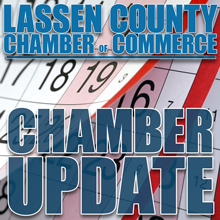 Patti Hagata, Executive Director
Applications to participate as a vendor at the 2020 Spring Show, that will be held on Saturday, April 27th, (formerly called the Spring Home, Garden, and Outdoor Recreation Show) are now available. If you are a business that falls in home, garden, recreation, or are a wedding vendor we hope you will join us by participating. The one-day show is a great way to advertise your business or service to over 1500 people who, on average, attend the show each year. You can download an application by going to our website www.lassencountychamber.org or stop by the Chamber office to pick up an application.
The board is accepting applications to fill a board vacancy. Chamber members who are interested in serving on the board are encouraged to apply. Contact the Chamber staff at 257-4323 to have an application forwarded to you or stop by the Chamber office, located at 1516 Main Street, to pick up an application.
Be sure that the Chamber's visitor lobby has an adequate supply of your business cards and brochures on hand to promote your business throughout the year. This is a free marketing service that is available to all Chamber members. Many brochures and business cards need restocking.
Mark your calendar to join us at the Thursday, March 19, 2020 Chamber Mixer, that will be hosted by Anytime Fitness, located at 2635 Main Street, Susanville, from 5:30-7:30pm. You do not need to be a Chamber member to attend, everyone is welcomed to stop by to mingle with friends and business associates, see what's new at Anytime Fitness, and meet the staff.
The Chamber still has a small quantity of 2020 Labor Law Posters, that feature the required federal and state notices, available for purchase. If you have not updated your poster stop the Chamber office, located at 1516 Main Street, to purchase one soon. California businesses are required to post updated employment posters at each place of business; cost is $30.00 each for Chamber members or/ $40.00 for non-member.