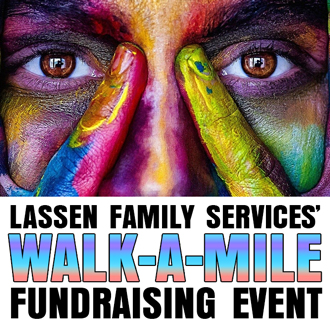 Lassen Family Service's 8th annual Walk-A-Mile event, a mile-long color walk around the Diamond Mountain Speedway to support survivors of sexual assault and child abuse, will be held on Saturday, April 24th at the Lassen County Fairgrounds.
LFS hosts the event annually at the end of National Crime Victims' Rights Week to make the community aware of the prevalence of these crimes and to provide information on the support services offered in Lassen County.
The motto of this year's National Crime Victims' Rights Week is "Support Victims. Build Trust. Engage Communities." and this years' Walk-A-Mile will be a community educational training on the prevalence of sexual assault and child abuse. The event also raises essential funds for LFS' Child Trauma Therapy program.
The Child Trauma Therapy program provides therapy to children who cannot receive services due to lack of insurance, transportation or an inability to find a therapist. This program is for children between the ages of 3 and 18 who have been victims of, or have witnessed, traumatic events.
Register for the Walk
It only costs 5 dollars to register for the walk and children 17 and under can walk for free.
The first 40 people to register get a free Walk-A-Mile t-shirt! (Size XL and L available, day of event, first come first serve on sizes)
To register for the walk, which begins at 10:00a.m., follow this link to Eventbrite.
For more information please contact Lassen Family Services at (530) 257-5459 or info@lassenfamilyservices.org.