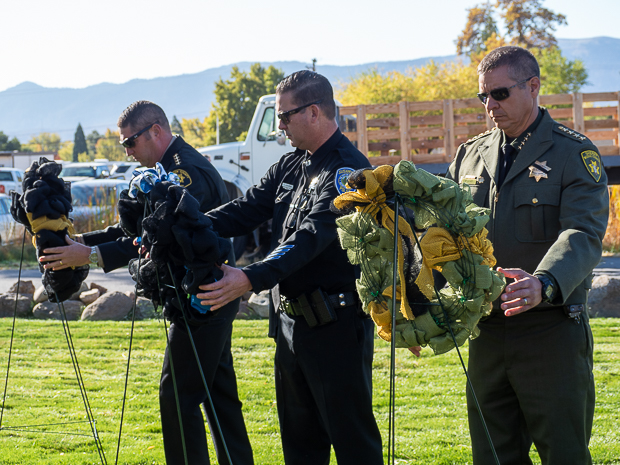 October is Domestic Violence Awareness month and Lassen Family Services, the sole provider of abuse focused prevention, intervention treatment and victim support services in Lassen County, will hold a special wreath laying ceremony on the morning of October 7th to honor the memory of Deputy Larry Griffith, Officer Robert McElrath, Deputy Jack Hopkins and all law enforcement personnel who put their lives on the line to protect victims of crime and their commitment to ending domestic violence in our community.
Again this year the annual ceremony will be held at the Lassen County Sheriff's Office on Sheriff Cady Lane beginning at 10:00a.m., and the public is welcome to attend.
The Honor Guard will present the colors and refreshments will be served following the ceremony.
October is Domestic Violence Awareness Month
According to Lassen Family Services 40% of California women will experience physical intimate partner violence in their lifetime. In 2012 LFS provided services to 1 out of 48 residents in Lassen County, over 208 of those helped were victims of domestic violence.
Several events are held by the organization during the month of October including the annual Dancing for a Brand New Me fundraiser. Purple ribbons were displayed at local businesses and community agencies to commemorate, acknowledge and bring awareness to the problem of domestic violence.
Lassen Family Services is a private, non-profit organization founded in 1979 and relying completely on federal, state, and foundation grants and public donations to provide a lengthy list of free services to the community; domestic violence and sexual assault rape crisis counseling/intervention, emergency shelter and transitional housing, 24-Hour Crisis Line, sexual assault response team, Court Appointed Special Advocates program, Child Abuse Treatment program, legal assistance/court advocacy, parent education, prevention education, law enforcement and hospital accompaniment, emergency food and clothing, emergency and non-emergency transportation and community referrals.