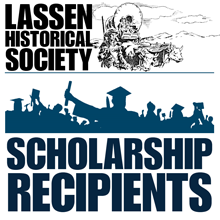 The Lassen Historical Society has chosen two outstanding local high school graduates; Natalie Nakanishi and Zachary Schall, to be the recipients of this year's Zellamae Miles $1,000 scholarships.
Each year two $1,000 scholarships are offered by the organization to graduating seniors in Lassen County who plan to attend an accredited college or university.
More than a dozen local graduates applied for the scholarship opportunities, each writing a short narrative on topic relating to Lassen County history.
"These students were only two of many outstanding applicants and, as always, it was a difficult chore for our Scholarship Committee to choose," the committee explained. "We have an abundance of talented young citizens in our county!"
The Lassen County Historical Society promotes interest, education and research into Lassen County's past, present and future. It strives to collect and preserve records, data, pictures and material pertinent to the history of Lassen County. Anyone interested may become a member.
Come Join the Society for our Big Annual Open House This Saturday
The Historical Society will be hosting an Open House at the Lassen Historical Museum on Weatherlow Street next to Roop's Fort, from 12:00 until 4:00p.m., this Saturday, June 18th.
Light refreshments will be served and everybody is welcome to stop by and see the museum's new displays.