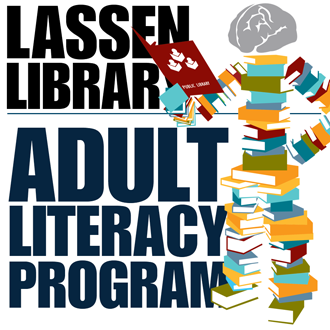 Need help using your computer? Interested in improving your reading, writing or math skills? Lassen Library's Adult Literacy Program is currently offering adult learners a wide-ranging assortment of free resources at the library on Main Street.
Adult Tutoring Program
The Adult Literacy Program offers free one-on-one tutoring and small group classes for adults who are interested in improving their reading, math and computer skills. Adult learners are provided a warm and safe environment at the Lassen Library. The Adult Literacy Program provides all of the curriculum and resources for free.
Interested in becoming a tutor? Tutors are supported with ongoing training to provide the most effective teaching strategies for the learner. Tutors and learners discuss and track their goals together. Follow this link for more information.
Improve Your Reading, Writing or Math Skills
Do you want to learn how to write for various purposes, create a budget, refresh your math skills or critically read informational pamphlets and articles? Then the weekly Adult basic education class is perfect for you. Or enroll in one-on-one tutoring.
These classes and tutoring sessions are individualized towards your own specific educational goals. Tutoring and classes are free and include personalized curriculum.
Need your GED High School Equivalency?
The Adult Literacy Program offers one-on-one tutoring, small group classes taught by a credentialed teacher, individualized curriculum and they will even pay for your GED test.
Need help using a computer?
Sign up for monthly, evening and weekend Basic Computer classes which cover helpful topics like Microsoft programs, Word, Excel, and Publisher along with basic desktop navigation and how to safely do online research.
FamilyLit Program
The FamilyLit program aims to ensure that children and families are simultaneously building a "culture of literacy." The program does so by supporting adult learners serving as parents or caregivers of children. Specific programs include parent and caregiver education, Storytime, activities that encourage family member interaction and book giveaways that help create "home
libraries."
FamilyLit offers Storytime each Wednesday, a monthly workshop on the second Saturday of the month and a summer reading program.
Stop by the library at 1618 Main Street or email [email protected] to get more information on how to sign up.