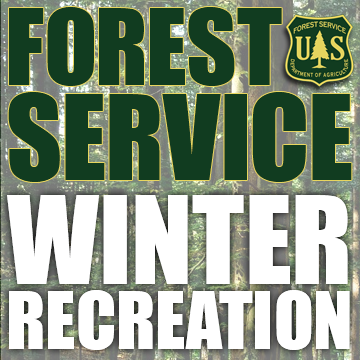 With record-breaking snow accumulations, all visitors to California's National Forests should plan ahead and ensure your vehicles are snow ready as road conditions may impact access heading into Martin Luther King Jr. weekend.
Visitors are encouraged to follow the Recreate Responsibility mantra which encourages people to Plan Before You Go, the Leave No Trace principles, Plan and Prepare, and Make it Better.
Know Before You Go – Some areas are seasonally closed or have limited hours, and many places become dangerous with winter weather. Research your destination, weather, and road conditions prior to your trip.
Plan and Prepare  – Know your limits and your gear. Pack extra layers, waterproof clothing, and safety equipment or beacons for the backcountry. Have a Plan B in case you can't access your destination.
Build an Inclusive Outdoors – Everyone deserves to experience a winter wonderland. Be an active part of making the outdoors safe, accessible, and welcoming for all identities and abilities.
Respect Others – From mountain tops to shores to prairies, parking can be in short supply in the winter. Park only in safe and legal spaces. Learn to Ski Kind or Tread Lightly when skiing, riding, or traversing off-road.
Leave No Trace – Respect the land, water, wildlife, and Indigenous communities. Follow the Leave No Trace Winter Use Principles.
Make it Better – Keep our winter playgrounds clean. Pack out any human or pet waste. Consider your responsibility to take action to protect our climate–today's snow is tomorrow's water.
Check Conditions – Check the weather for your destination and understand the road conditions, chain control, and potential road closures of your route. Don't get lured into taking alternative routes around closures as travel apps and related online map services have likely not been updated to reflect the current situation and you may get lost or stuck. Recommended resource: QuickMap (ca.gov)
Make Sure Your Vehicle is Prepared – check your tires' tread and pressure; top off windshield fluid; and carry tire chains, an ice scraper, an extra blanket and provisions in your car in case you become stuck or stranded on the roadside.
Using GPS – When a road is closed don't rely on your phone's GPS to route you around the closure. If a main highway is closed then the secondary road will be in worse condition.
For people choosing to stay local, the USDA Forest Service invites everyone to participate in volunteerism on Monday, January 17th, in recognition and celebration of Martin Luther King Jr. Day.
Martin Luther King Jr. Day is the only federal holiday designated as a national day of service to encourage all Americans to volunteer to improve their communities. For more information, visit: https://americorps.gov/newsroom/events/mlk-day.