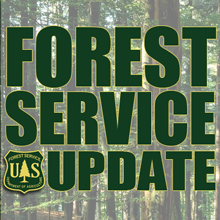 Lassen National Forest has announced that as of January 1st, permits for up to six cords of firewood are being made available free for personal use.
"As the impacts from COVID-19 continue to be felt across the country, we remain committed to providing services on our public lands and doing what we can to help those in need. As such, the Lassen National Forest will provide free personal use firewood permits through April 30, 2022," explains LNF Acting Public Affairs Officer Amanda Oliver.
All fuelwood regulations are still in place and must be followed, which includes calling the phone number for daily updates and paying attention to the closure areas.
The free fuelwood permits will only be valid and usable from January 1st to April 30th.
"We understand that access to fuelwood is essential to the people in our communities," adds Forest Supervisor Deb Bumpus.
These permits are only valid on Lassen National Forest lands open to firewood cutting. You can obtain permits for up to six cords of firewood for personal use. A cord is the amount of tightly piled wood in a stack four feet high by four feet wide by eight feet long.
"Due to our employees having only limited access to our offices at this time, it may take up to one week to obtain a permit. Please plan accordingly."
Commercial fuelwood is not part of the program, and commercial permits must be purchased.
District Office Contact Information
Almanor Ranger District, (530) 258-2141
Eagle Lake Ranger District, (530) 258-2141
Hat Creek Ranger District, (530) 336-5521
The hours of operation are 8:00 a.m.- 4:30 p.m. Monday-Friday