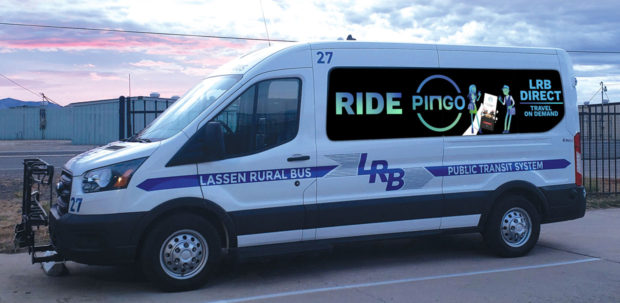 Lassen Rural Bus has announced a new service called LRB Direct, an on-demand bus service taking you around the greater Susanville area each Saturday between 9:00a.m. and 3:00p.m.
The bus service is $3.50 for general riders, or $1.75 for seniors over the age of sixty, people with disabilities and for K-12 students.
Children under the age of six ride for free but must be accompanied by a parental guardian.
There is also a special promo code that lets the first twenty-two riders each Saturday take a trip for free! Just enter FRF as a coupon code.
How does it work?
LRB Direct will be available through the Ride Pingo app that can be downloaded for free in the Apple App Store or through the Google Play Store.
After downloading the Ride Pingo app, tap on the app and "allow" Pingo Rider to send you notifications. Tap "get started" and fill out your details.
Finally, verify your account and allow Ride Pingo to access your location whilst using the app and you are ready to go.
If you don't have a cell phone you can still book a ride by calling LRB's call center at 1.530.252.7433, Monday through Friday, 7:00a.m. to 7:00p.m., and Saturdays from 8:00a.m. to 4:00p.m.
LRB's wheelchair-accessible van and cutaway bus will be operating the service.