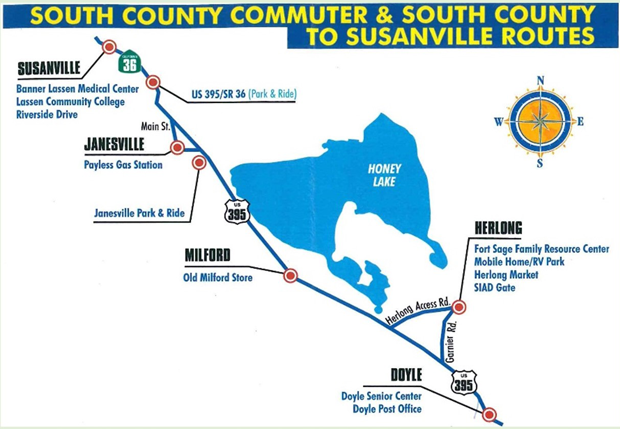 Lassen Transit Service Agency will be hosting a series of community meetings to gather input on proposed service changes to Lassen Rural Bus' east and south county routes.
Anyone with an interest in the routes is encouraged to attend any of the four upcoming meetings, or the next LTSA board meeting on November 19th, to learn about the proposed changes and to share your opinions and concerns with the board.
Included in the proposed changes are that the south county route would be serviced by one vehicle instead of two, but the route and schedule would not be changed.
Both the existing East County and South County to Susanville routes will be merged into one will be named South County.
Meetings will be held from 6:30 till 7:30p.m. at the following locations; Monday, October 29th at the Janesville Fire Station; Thursday, November 1st in the Supervisor's chambers 707 Nevada Street; Monday, November 5th at Leavitt Lake Community Services District and Wednesday, November 7th at the Fort Sage Family Resource Center.
For more information visit www.lassentransportation.com
The morning route will include the following stops:
Fort Sage Family Resource Center, Herlong
Herlong RV Park
Doyle Post office
Doyle Senior Center
US 395 at the Mark
Milford
Janesville (Payless Gas)
CA A-3 at Sears Road
CA A-3 at Cook Road
CA A-3 at Regina Road
Standish
Litchfield (On-demand)
Leavitt Lake (off highway)
Johnstonville Store
Susanville Mobile Home Park
Lassen Community College
Hospital
Riverside Drive
The afternoon route will include the following stops:
Riverside Drive
Lassen Community College
Hospital
Susanville Mobile Home park
Johnstonville store
Leavitt Lake (off highway)
Standish
Litchfield (On-demand)
CA A-3 at Regina Road
CA A-3 at Cook Road
CA A-3 at Sears Road
Janesville (Payless Gas)
Milford
Doyle Post Office
Doyle Senior Center
Herlong RV Park
Fort Sage Family Resource Center, Herlong