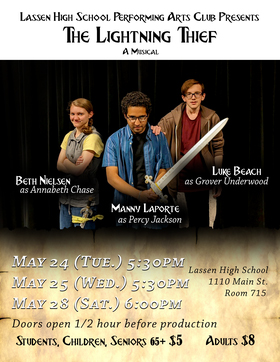 The Lassen High School Performing Arts Club will be presenting The Lightning Thief, A Musical, tonight, Wednesday and Saturday in Lassen High Room 715.
The musical, adapted from the New York Times best-seller, The Lightning Thief by Rick Riordan, is a Percy Jackson adventure and starts Beth Nielsen as Annabeth Chase, Manny Laporte as Percy Jackson and Luke Beach as Grover Underwood.
The performances are this evening at 5:30, Wednesday at 5:30 and Saturday at 6:00. Doors open half an hour before the performance.
Tickets are $5 for students, children and seniors 65 and older. Adult tickets are $8.