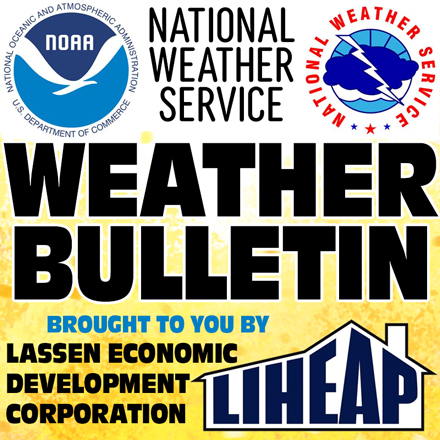 Forecasters at the National Weather Service office in Reno are warning Honey Lake Valley residents to expect heavy snow with total snow accumulations of 3 to 9 inches here on the valley floor, and 10 to 20 inches west of Highway 395.
Winds will be gusting as high as 50mph with gusts to 70 mph along exposed ridgelines.
The Winter Storm Warning is in effect for Lassen, eastern Plumas and eastern Sierra Counties from 10:00 tonight until 4:00a.m. Friday.
Travel will be very difficult with hazardous conditions impacting the morning and evening commutes. Gusty winds could bring down tree branches.
The heaviest snowfall rates are anticipated on Thursday. The combination of heavy snow and wind may bring periods of whiteout conditions. For road conditions, check with Caltrans at quickmap.dot.ca.gov.
A break between storms is anticipated for the remainder of Friday and much of Saturday, with well below average highs (mainly 30s to near 40) Friday edging upward a few degrees Saturday.
PRECAUTIONARY/PREPAREDNESS ACTIONS…
Avoid travel if possible, you could be stuck in your vehicle for many hours. If you must travel, prepare for long delays and carry an emergency kit with extra food, water and clothing. Have a backup plan in case of power outages.
The latest road conditions can be obtained by calling 5 1 1.