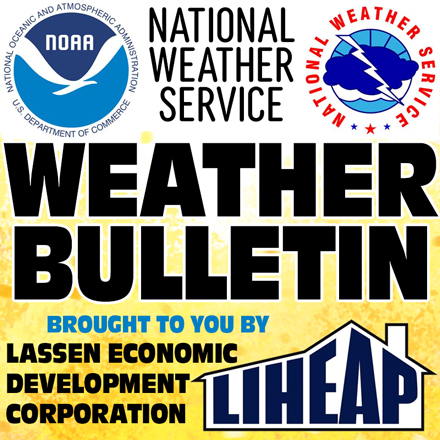 Forecasters at the National Weather Service office in Reno are warning that over the next five days we can expect everything from snow on the valley floor to three days of warm, atmospheric river fed storms bringing rain to wash all of that snow into Honey Lake.
First, snow is expected this morning with total snow accumulations of up to two inches, except for the higher elevations which can expect another 2 to 6 inches west.
Above 6,500 feet, heavy snow possible. Total snow accumulations of up to 8 inches, except up to 18 inches west of highway 395 possible. Winds could gust as high as 50mph.
The Winter Weather Advisory expires at 1:00p.m. this afternoon, there will be a short pause in the storms and then a bog one rolls in Thursday afternoon through Sunday morning.
Higher snow levels Thursday night through Sunday bring the risk of flooding in lower elevations, mainly in areas below approximately 6,500 feet. The main impacts are expected to be on smaller creeks and streams and in areas of poor drainage.
A Flood Watch Will be in Effect from Thursday afternoon through Sunday morning.
A warm atmospheric river will lead to rapid runoff in areas of shallow snowpack and wet ground. Continued precipitation on areas with deeper snowpack may begin to pass rain through the snowpack during the prolonged precipitation event. This will lead substantial hazard of minor flooding with significant rises on main stem rivers. Flooding on mainstem
rivers is not forecast at this time, but rises to monitor stage or even minor flooding can't be ruled out.
Excessive runoff may result in flooding of rivers, creeks, streams, and other low-lying and flood-prone locations. Creeks and streams may rise out of their banks. Flooding may occur in poor drainage and urban areas due to deep snow confining flow and limiting drainage.
Low-water crossings may be flooded. Storm drains and ditches may become clogged with snow and debris.