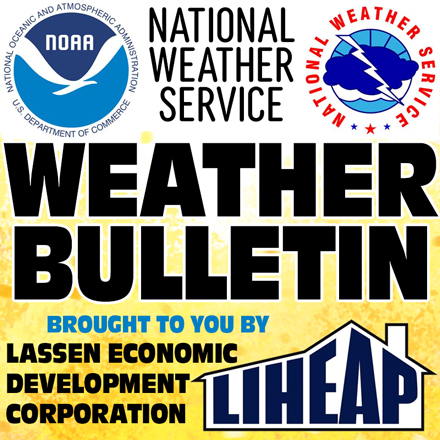 Forecasters at the National Weather Service office in Reno have issued a Winter Storm Warning, which goes into effect at 4:00 this afternoon, as a powerful winter storm is expected to bring heavy snow and damaging winds to northeastern California and western Nevada.
Heavy snow, with total accumulations of 3 to 6
inches for eastern Lassen County, and 1 to 3 feet west of Highway 395 is expected with the incoming storm.
Winds, which have already strengthened this morning, will be gusting as high as 55mph along Highway 395 and over 80mph along ridge lines Sunday evening into early Monday morning.
Travel could be very difficult to impossible at times between now and early Wednesday. The hazardous conditions will impact commute times over mountain passes.
Strong winds may damage trees and power lines.
Be prepared for whiteout conditions and subzero wind chills along the foothills and ridgelines.
Weather experts say to avoid travel if possible, you could be stuck in your vehicle for many hours. If you must travel, prepare for long delays and carry an emergency kit with extra food, water and clothing.
If you stay home, have a backup plan in case of power outages.
The latest road conditions can be obtained by calling 511.