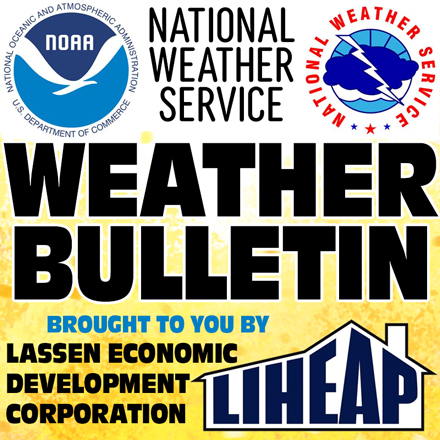 The meteorological experts at the National Weather Service office in Reno are warning area residents to expect a quick hitting winter storm system Sunday and Sunday night followed by very cold temperatures.
A quick moving slider-type winter system is expected to impact the Sierra and western Nevada on Sunday into Sunday night, bringing gusty ridge winds and light snowfall accumulations.
Ahead of the precipitation, westerly winds will begin to increase Saturday night into Sunday morning.
Sierra ridges will see gusts between 60 to 80 mph which will result in some
mountain recreational impacts.
This will be a cold system, with powdery snow at all elevations. Snow totals will be meager by Sierra standards, with generally 2-6″ expected.
Here in the Honey Lake Valley, a dusting up to a few inches of snow will be possible.
Driving conditions may get messy Sunday, with the potential for lingering icy conditions into Monday morning.
Frigid temperatures will settle into the region early next week with highs remaining below freezing Monday and possibly Tuesday.
Overnight lows Monday night could be the coldest some locations have seen in 5-10 years.
Preparations should be made to protect vulnerable populations and pets from these very cold temperatures.