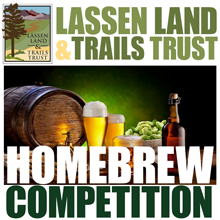 Lassen Land and Trails Trust is hosting its third Lassen County Homebrew Competition to support its activities in conservation, working landscapes and trails. Homebrewers and beer tasters will be part of the event.
Beer tasting will be held Saturday, May 7th, from 5:00 to 8:00p.m., at the Historic Susanville Railroad Depot, 601 Richmond Road.
Participants will sample a variety of home-brewed offerings. Tickets are $20 for members, $25 for non-members and are available on the Lassen Land and Trails Trust website, www.lassenlandandtrailstrust.org, or at the door.
Participants will select people's choice awards, and judges will select a homebrew winner as well. Beer tasters will receive commemorative tasting glasses.
Brats will be available for purchase.
Proceeds will support Nature Camp and management of conservation easements that conserve working lands and Lassen County's rural way of life.
Sponsors include Lassen Ale Works, Diamond Mountain Casino & Hotel, Plumas Bank, and Les Schwab, with additional support from Grocery Outlet, Pregill Insurance, Jackson's Service Center, Lassen Rural Bus, Farmers Insurance: Michelle Hunter, C&S Waste, Lassen Land & Homes, and Susanville Supermarket.