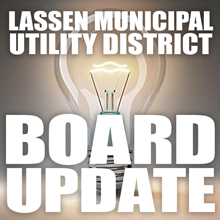 The Lassen Municipal Utility District board will hold a special Rate Study Workshop on December 16th to discuss rate adjustments for the utility's customers.
The workshop will begin at 5:30p.m. in the LMUD board room on South Roop Street.
This is only a workshop, and the board will not make a decision on rate adjustments until the public hearing, which is set for December 20th at 5:30pm.
The public is welcome to attend the Rate Study Workshop as well as the public hearing.
Click here to download an agenda for the December 20th public hearing.