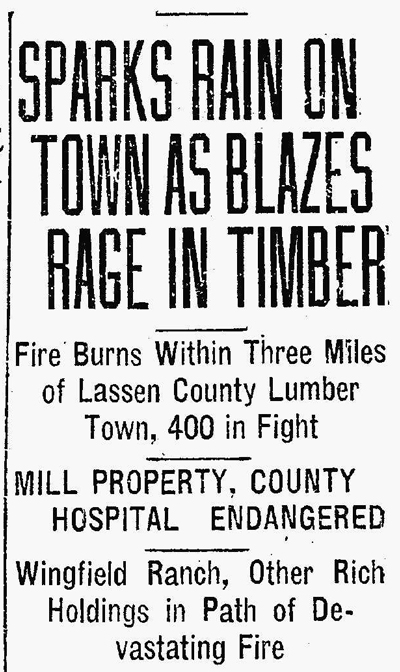 Sparks Rain On Town As Blazes Rage In Timber
Fire Burns Within Three Miles of Lassen County Lumber Town, 400 in Fight
Mill Property, County Hospital Endangered
Wingfield Ranch, Other Rich Holdings in Path of Devastating Fire
July 19, 1924
Sparks from a forest fire raging three miles from Susanville today endangered approximately 80 million feet of cured lumber, county buildings and other property within the town today. Throughout the day the county hospital was sprinkled with water constantly to protect the building. The lumber yards of the two large companies were patrolled to guard against fire resulting from the falling sparks.
Driven before a brisk west wind, the flames burned an area of about eight square miles and were uncontrolled tonight.
Valuable timber lands, ranches and livestock are in the path of the fire.
Four hundred men were called from the town to battle the blaze when it was noticed at 11 o'clock this morning. They continued their efforts to check it tonight.
A slackening of the wind this evening gave a respite to those who were protecting the town.
Provisions were sent from Susanville tonight for the firefighters on the fire line.
The fire is in government timber and three ridges have been burned over tonight, destroying valuable trees.
Logging equipment is in momentary danger and the Wingfield ranch not the property of the Lassen Lumber and Box company, on which is much thoroughbred stock seem doomed unless the fire is halted or the direction of the wind changes. Tonight the fire is within four miles of the ranch.
Mayfields at the edge of Susanville presents an added hazard to the lumber store here. Water wagons have been stationed at various points.
Besides the lumber yards and the county buildings, the Ramsey and Ridenour ranches are said to be threatened by the fire.
Dynamite stored by the county at the outskirts of Susanville was removed today due to fear of a possible explosion should the fire reach it.
The fire at Lassen (Janesville) which threatened the town yesterday was reported extinguished tonight.