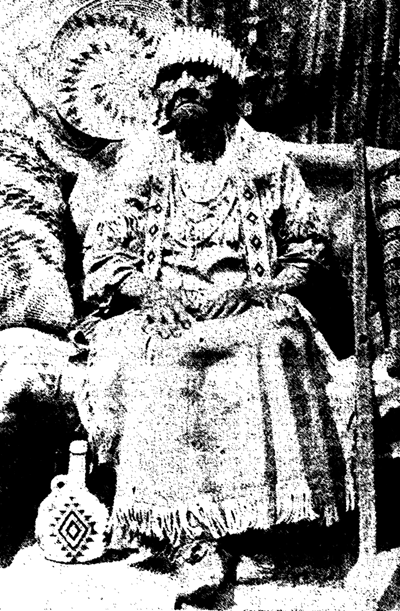 Susanville's Honorary Queen for its Centennial has been here for the Whole Century
June 20, 1954
Yuana Roxie Peconom, oldest living resident of Susanville, is approximately 105 years old. Roxie was born on what is now known as the old Hulsman place at the foot of Diamond Mountain in Lassen county, apparently in 1849.
Her age is determined by different happenings and events that had taken place during her childhood. She was born into the Maidu Indian tribe and as a little girl Roxie can remember this valley as being covered with just sagebrush and scrub pine.
Her recollections of Susanville in its infant stage are numerous, as her mind and memory today are still very alert for her age.
Among her memories of Susanville in its early beginning are of its first buildings that were erected. There was a store, a blacksmith shop, jail, saloon, stable and also Roop's Fort. She recalls that every time something burned in Susanville it was always a dwelling other than the jail house, as in her words, "Jail, him never burn."
She tells many stories of Honey Lake Valley's first settlers; one is the fine treatment the indians received from Med Arnold's family.
Although Roxie has been blind for a number of years, she still manages to get around fairly well, and she is spry enough this year to be Lassen County's Centennial Celebration honorary queen, and ride in the parade.
She has raised a family of 12, six boys and six girls, four of whom are still living. She has 18 grandchildren, 28 grandchildren and four great-great-grandchildren.
Many of her fine woven baskets and other forms of Indian craft have been exhibited at the State Fair in Sacramento for a number of years, and up to just a few years ago, although she was blind, she still managed to weave some of her fine baskets.
Asked what her secret is for living to such a ripe old age, she says, "Through prayer to my Maker, to give thanks for bringing each sunset and the dawn of each new day."