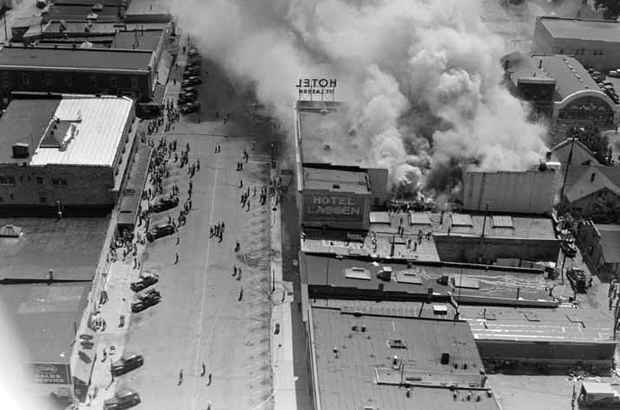 Blaze Razes Lassen Hotel
Night Clerk Reported Missing; Fire Damage Estimated at $500,000
June 30, 1947
Firemen yesterday evening probed the smoldering ruins by a $5000,000 fire in Susanville, searching for the body of a missing hotel clerk who is believed to have perished in the blaze.
The missing man is James J. Daugherty, 50, night clerk of the Lassen Hotel in which the conflagration began. He is believed to have been trapped in a basement room when flames roared through the three-story structure.
The hotel and six business establishments were razed by the fire, which broke out from undetermined cause about 9 a.m. The flames were still burning fiercely by 2 p. m., but spread of the fire had been controlled by that time.
Fourteen pieces of fire equipment battled the blaze to prevent it from spreading even farther in the Lassen county town, but were unable to prevent destruction of several stores and offices. They included a clothing shop, hardware store, real estate office, insurance firm, oculist's office, and offices of the California State Automobile Association and those of the U. S. Bureau of Internal Revenue.
The last-named office lost all income and federal tax records, according to report.
The blaze began in the hotel basement, spreading quickly to the hotel restaurant and bakery. The entire building, Susanville's largest hotel, was soon enveloped in flames. Thirty hotel guests were escorted to safety by firemen before the fire reached its climax, and last night were being cared for by the Lassen County Red Cross chapter.
Six firemen were overcome by smoke in battling the blaze, but no other injuries were reported as occurring during the fire fighting. Equipment was sent from Westwood and Herlong to aid the Susanville force, while other fire trucks were dispatched from the U. S. Forest Service facilities, state division of forestry and the Paul Bunyan Lumber Co.