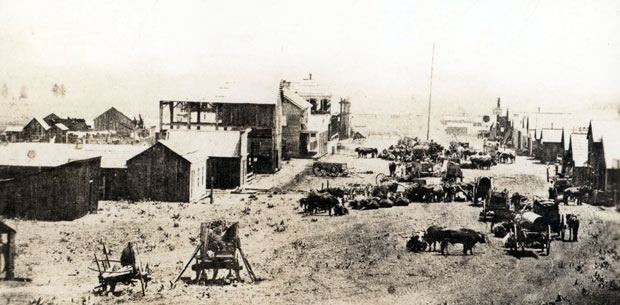 Dispatch from the Land of the Neversweats
March 27, 1864
The inhabitants claim that this is the original Garden of Eden, and some even go so far as to show the very canon through which Adam and Eve were expelled, and point to a footprint in the solid rock as evidence of the fact. Whether such be the case or not, it is certainly the most beautiful valley of its size that our State can boast of.
To a person lately from the parched plains of Sacramento valley the contrast is great, riding along for seventy-odd miles through clover, Peavine and red top grass from three to five feet high, while on one side are the lakes with their mirrored surfaces, and on the other the lofty peaks of the Sierra Nevadas with their tops covered with snow, and as you ride path is crossed every mile or two by the clear crystal brooks formed by springs high up the mountains, and now swollen by the melting of the snow.
Although ice is generally considered a luxury, here it would be useless as regards the water, for it is uncomfortably cold already.
There are about seven hundred ranches located, and plenty of good land for as many more. We counted one hundred and forty-seven log cabins finished and in course of construction, and upon nearly all of these ranches were fine fields of grain and vegetables.
Near the head of the valley, Ruble and Peterson have five acres in potatoes which look very fine.
At the ranch of Clark and Boyde we were regaled with fresh vegetables in the shape of green peas, turnips and radishes, and at the milk ranch of Dickerson and Farmer we partook of the first new potatoes raised in the valley.
There is already here two saloons, one store, one blacksmith shop, one butcher shop and while on our way in we passed a sawmill going up.
Thayer and Loring are running a weekly express from Susanville to the valley, and keep them supplied with the latest papers.