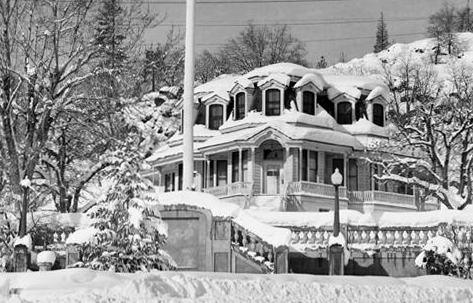 Elks Plan Meet in Reno Tonight
Many Members From Susanville to Attend
November 17, 1931
Led by Hardin Barry, exalted ruler; more than 100 officers and members of Susanville lodge of Elks, will meet with Reno lodge tonight at an intercity meeting, when the initiatory rites will be conferred, and entertainment program provided for the visitors and ladies.
The Lassen county delegation will arrive here soon after 6 o'clock, by automobile caravan, and at 7 o'clock, a buffet dinner will be served at the Elk's homes. This will be followed at 7:30 o'clock by a half hour's musical program at the lodge room by the high school orchestra of 40 pieces under the direction of Rolla V. Johnson, head of the music department at the school. At 8 o'clock, the visiting ladies will be guests at a theater party at the Majestic.
From 8 to 10 o'clock, the initiatory degree will be exemplified by the officers of Susanville lodge on a class of four candidates consisting of Harry Frost, George Siri, Louis Rosasco and Dr. M. B. Alden.
An informal dance will follow from 10 to 1 o'clock for the members of the two lodges and their ladies.
A special tie of fellowship exists between the Reno and Susanville lodges, local Elks declare, as a large number of the members of the Lassen organization were formerly affiliated with the Reno lodge prior to the institution of the Susanville lodge. Frequent intercity visits have been made.
One of the largest gatherings of recent years by Reno lodge is indicated, S. H. Cooper, exalted ruler said last night, with a large representation of members from nearby cities expected.