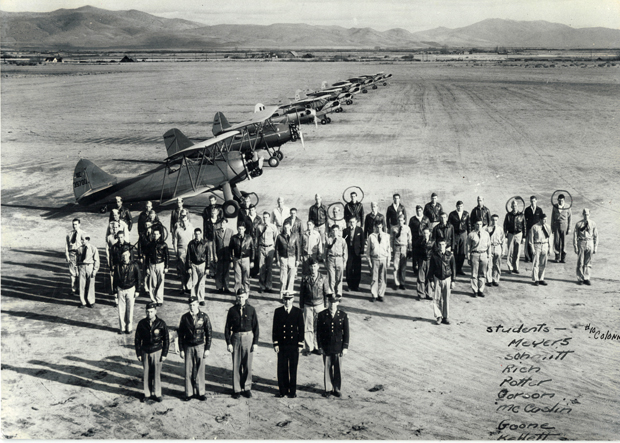 Reserve Pilots Start Training
September 23, 1942
Twenty army air force reserve pilots began training Friday at the Lassen Junior College in an eight week course. Twenty-five naval reserve pilots joined the army fliers this week and there's a possibility that an additional ten army fliers may be assigned here from Santa Rosa Junior College according to Ralph Lloyd, coordinator of the civilian pilot training program. Lloyd was appointed to replace N.H. McCollom who will leave for the army in the near future.
Making up the first complement of twenty army fliers are ten men recruited locally and ten assigned here for training from the Salinas Junior College. Training of students from coast schools has been necessitated by western defense command ruling against flying in the combat zone.
The local junior college provides housing and sustenance for the fliers besides the ground school training. Flight training is goven in conjunction with the Jaysee by Flint, 1035 Lander street for the Susanville municipal airport.
Recruited by the Lassen Junior College are fliers from Westwood, Susanville, Sacramento, Santa Cruz, Palo Alto, Chico and Salinas