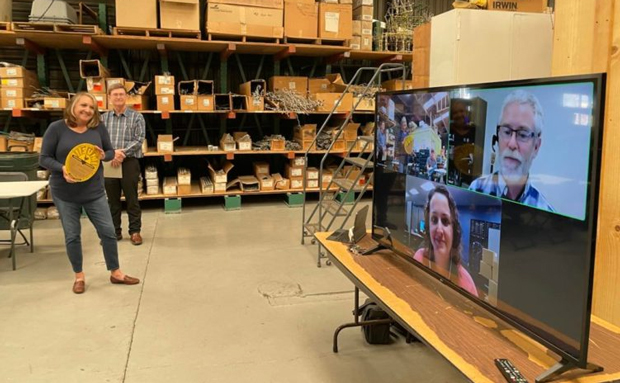 For nearly two decades, the smiling, affable, public face of Lassen Municipal Utility District has been Public Relations Manager Theresa Philips, and now she has been honored for her hard work and dedication at the utility with a prestigious communications award.
On October 29th, Phillips was announced as the winner of the Dave D'Avanzo Communications Award for 2021 at a virtual ceremony with Pioneer Utility Resources Editor Mike Teegarden and Associate Editor Victoria Hampton.
Pioneer is a communications co-op partnering with more than 250 community-owned utilities and state associations in thirty-four states. Their consumer magazine brands, which include LMUD's Ruralite magazine, reach more than 700,000 U.S. utility households, so this award is a pretty big deal.
The award ceremony, which came as a complete surprise to Phillips, was held at LMUD's warehouse on Chestnut Street with all of the power company's employees in attendance.
"It was a total surprise! I was completely clueless," said Phillips.
"For the life of me, I couldn't figure out why the giant TV was set up at our all-hands meeting, and then when Mike Teegarden and Victoria Hampton from Ruralite appeared on the screen, I was baffled… it never occurred to me that they were presenting me with the award."
She says that being chosen as the Communicator of the Year is one of the greatest achievements and honors of her career.
"The team at Pioneer and Ruralite are the best in the business, and to be recognized by them and my industry peers has been incredible!"
The award is named in honor of longtime industry communicator Dave D'Avanzo.
"Dave D'Vanzo was a mentor and friend to many in the public power communicator world. For me personally, he taught me so much, not just about being an effective communicator, but what it means to give back to the community that gives to you."
"He was a gentle giant with a booming laugh. The first time we met, in 2003, he made me feel welcomed in a strange new land! Dave was my "go-to" guy for so many things! His passing in 2020 left a huge hole in the public power world, so to be honored with an award that bears his name leaves me speechless. I am humbled and honored."
One of Phillip's many responsibilities at LMUD is managing the local page content for Ruralite magazine.
In being selected for the award, Teegarden and Hampton cited her effective use of magazine pages, guiding the utility district's social media presence, and her 'exceptional execution of a clear and consistent communications plan on behalf of Lassen Municipal Utility District.'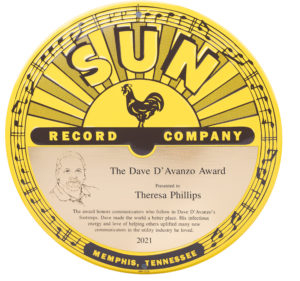 "Theresa is one of those people who you just love to work with, even in the middle of a crisis," said Teegarden. "She brings so much energy, expertise and a positive outlook to every project. Theresa also is a gifted networker, cultivating contacts throughout the Susanville community and the utility industry."
For Phillips, the highlight of her role at the utility is getting to interact with customers and community members.
"I love talking to customers and helping them understand the how's and why's of what we do," she says. "The best part of my job is making community connections!"
"Events like our Customer Appreciation Celebration and the Home and Garden Show are my favorite! Both events give me the opportunity to speak to customers in a stress-free, casual environment, plus, I get to give away cool stuff, so that's even better!"
It is obvious that she loves her job.
"You don't stay in a job for nearly 20-years without it bringing joy to your life," she says, "and this job (despite the obvious challenges) has provided more joy to my life then I could ever say."
"My job has given me the opportunity to make connections, not only locally, but throughout the public power industry."
"I always say I have the best job at the utility, I get to do some amazing things. From helping schools install solar arrays, retrofitting lights for businesses so they can save money, to presenting scholarships to local students, it really doesn't get better than this!"
But it's not always easy, and part of the reason Phillips won the award was her grace under pressure when things get difficult at the utility. Rolling power outages, winter storms, forest fires, interruptions in service… and through it all her job is to help 10,500 customers understand what is going on with their electricity.
This summer was a tough one where, for various reasons, LMUD was forced to use power from a backup source for 77-days. Customers dealt with sporadic outages and rolling blackouts that were beyond LMUD's control for a large portion of the summer.
"For the most part, customers were very understanding, most just wanted to know when it was going to be their turn during the rolling blackouts, basically, the one question I couldn't answer!"
"But even so, we all stayed focused on providing information (good or bad) to our customers. The biggest challenge was facing uncertainty but keeping a positive attitude. The power always comes back on… that was the one thing we could be sure of."
Phillips focuses a great deal of time and effort on promoting not just the power company, but also the communities within the LMUD service territory through publications like the Ruralite and outreach programs designed to educate and connect with customers.
"As a publicly owned utility, I feel it's LMUD's duty to promote and support the communities we serve. Being in a position where I have the opportunity to use my resources for the greater good of our service territory benefits everyone, not just LMUD."
"Let's face it, LMUD has a captive audience, beyond going off-grid, our customers do not have a choice in who provides their electricity. With that said, LMUD still cares about what our customers want, what's important to them is important to us."
"I've always said this, and I always will, public power is power for the people by the people, without the support of the community, we would not exist."