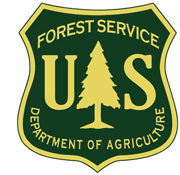 A recent survey shows the majority of visitors to the Lassen National Forest are satisfied with recreation facilities and services provided, with close to 90 percent expressing satisfaction and more than 75 percent reporting feeling "very satisfied."
This was just one finding of the National Visitor Use Monitoring report released last month by Forest Service Chief Tom Tidwell. The national survey, which involved approximately 191,000 visitor interviews from October 1, 2005 – September 30, 2010, provides a snapshot of current visitation patterns and activities on National Forest land across the nation.
In 2010 on the Lassen alone, researchers interviewed more than 1,500 visitors, ranging from commuters to wilderness trekkers, to obtain local data. These interviews represent a sampling of the projected 300,000 visitors to the Lassen in 2010. National forests in the state of California, which account for 17 percent of national forest recreation nationwide, received nearly 30 million visitors, and those across the country welcomed close to 171 million in 2010.
The NVUM report also reflects visitor satisfaction with access to the Lassen National Forest. Despite continuing debate over Off-Highway Vehicle use on the Forest, satisfaction with overall access has remained very high. About 90 percent of respondents expressed satisfaction with access to developed sites, undeveloped areas, and designated wilderness.
The top five main activities reported for 2010 include "fishing" (22 percent of respondents reported this as their main reason for visiting the Lassen), "viewing natural features" (19 percent), "snowmobiling" (8.4 percent), "relaxing" (8.3 percent), and "developed camping" (6.7 percent). Four of these five, plus "hiking/walking" (ranked 8th for 2010), have consistently been among the top-ranked activities since the NVUM, conducted every five years, was first completed on the Lassen in 2000. The fifth, snowmobiling, is new to the list of most preferred activities.
According to the report, OHV use was not among the top activities of Lassen National Forest visitors in 2010. It ranked relatively low, with only 1.3 percent reporting it as their main activity when on the Forest.
The special event on the Lassen with the greatest visitor draw in this most recent survey was the Bizz Johnson Marathon, which attracted more than 900 visitors.
"If counties and communities want to direct their efforts to take economic advantage of the activities that Forest visitors are engaging in, the data from this survey will be very useful," said Christopher O'Brien, Lassen National Forest Public Services Officer.
Outdoor recreation activities in California's national forests contributed $2 billion dollars to local economies and helped sustain an estimated 38,000 jobs in 2010. Across the country, recreation activities on national forests and grasslands continued to make large economic impacts on America's rural communities by contributing $14.5 billion to the U.S. economy and sustaining approximately 223,000 jobs in rural communities in 2010.
While the most recent numbers reflecting what visitors spend annually in communities adjacent to the Lassen National Forest are not yet available, 2005 data showed that total spending associated with visits to the Lassen was just shy of $23 million, the majority of those dollars spent on gas and oil, lodging, groceries, and restaurants. The data for the spending done by visitors to the Lassen in 2010 will be released as it becomes available.
Results of the National Visitor Use Monitoring Report are available at: http://apps.fs.usda.gov/nrm/nvum/results
You may contact Public Services Officer Christopher O'Brien at 530-257-2151 with any questions or for more information.