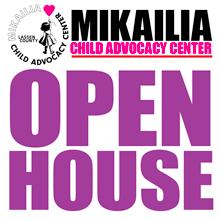 Lassen County's new Mikailia Child Advocacy Center, a centralized location where county agencies can coordinate responses to child abuse, will hold an open house on December 7th to give the public a chance to see what is being done to assist victims.
The nearly $200,000, grant-funded center, housed in the District Attorney's Office on Riverside Drive, provides facilities for recording forensic interviews in a child friendly environment while a multidisciplinary team monitors, and participates unseen, in the process.
The interview room, and the adjoining conference room, have been completed and are being used to work with child victims of sexual assault, physical abuse and those who witnessed violence – such as domestic violence or homicide. The center is also used to help developmentally disabled victims of any age.
The child friendly interview space includes children and teen oriented furniture, painted murals, waiting room toys for siblings and a smart board to record the child's drawings during the interview for use as exhibits in court. Victims also have access to the building from a separate entry to alleviate the possibility of interacting with offenders.
Community partners of the center include the District Attorney's Office, Victim and Witness Assistance Program, Lassen County Sheriff's Department, Susanville Police Department, Behavorial Health, Child and Family Services, Lassen Family Services and Banner Health.
Funding for the Child Advocacy Center comes from Federal Victims of Crime Act Funds through the California Office of Emergency Services.
Donate a heart shaped button
The Mikailia Center is in need of heart shaped buttons. They would like to hand out buttons of courage to all of their brave victims, but they need buttons to be donated.
The center is located at 2950 Riverside Drive in Susanville. The Open House will be held from 1:00 to 4:00p.m. and light refreshments will be served.